As we get ready for the upcoming high school season, we were able to see some guards and wings at the Farmingdale State College team camp. Here is a scout on of them.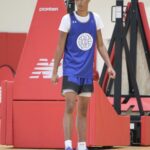 6'4" | SG | 2023
North Babylon | Boys 2 Men
Transferred over to North Babylon from St Anthony's. Aiden is very athletic. Can get to the rim and finish with strength and creativity. Very capable shooter from the perimeter.
6'2" | SG | 2023
Kings Park
We've done many reports on Matt over the years. This outstanding shooter is lifting his game to new heights. Strong body guard can handle the ball in traffic. A scorer who gets his teamates involved knowing it is best for his team to have other options. But when the game is on the line there is ice in his veins. Coach is very comfortable at the end of games because Matt will make the right decision. He is also automatic from the charity stripe.
6'1" | SG | 2024
St Francis Prep
Tyler is not the big name on the Terrier roster, but watch him play and you realize what a good player he is. Deceptively quick. Has long arms which he uses to defend. Moves his feet well. We watched him last year make quick and decisive baseline drives he has now added a shot fake leading into a pull up jumper or getting into the lane.
6'0" | PG | 2024
Manhasset
James came off the bench last season for the class A state champs. Now he has the keys to the car and is very impressive running the show. Excellent handle. His head is on a swivel looking to distribute the ball to a teammate. Can knock down threes with regularity. Protects the ball on drives and uses it leading into his mid range jumper.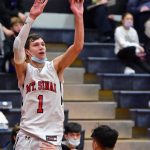 6'3" | SG | 2023
Mount Sinai | Empire
A does it all type player. A relentless rebounder on the offensive glass. Long lanky body which he uses with his euro step in the open floor. Has an elusive dribble. Has developed a potent step back three. He has always been able to shoot it but now the handle and the shot are working together.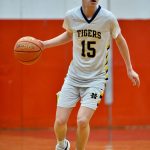 6'2" | SG | 2023
Northport | Hoopdreams
Another smooth LongIsland guard who can drill the three off the catch or the bounce. Very creative scoring off the drive. Has deep range. Very good at shooting the three in transition