While high school classes have been in full swing, on the basketball court many programs are preparing for Fall League games. Here at Prep Hoops PA, our updated 2024 rankings dropped on Monday and a variety of talented players are being covered this week. The staff at Prep Hoops Pennsylvania has diligently gathered information and worked extremely hard to develop an extraordinarily comprehensive list of over 350 high school basketball student-athletes. This group of juniors has the balance of talent to be the most heavily recruited group in a long time throughout the state. Many young men have been in constant communication with college coaches, while a large number of others are starting to garner collegiate attention as well. Listed below are the skilled performers that climbed the rankings for our current update.
#15….. Virgil Hill Virgil Hill 6'9" | C Imani Christian Academy | 2024 State PA / 6'9 center / Imani Christian Academy High School / moved up 13 spots / This big man dominates the post on the offensive end of the floor, while owning the paint on the defensive end. His ability to move quickly despite his size is a solid attribute for this young man. Virgil is a legitimate division 1 recruit.
#17….. Damon Curry Damon Curry 6'2" | SG Franklin | 2024 State PA / 6'2 shooting guard / Franklin High School / moved up 20 spots / A creative and long shooting guard who knocks down perimeter jumpers consistently. He is a smooth and shifty performer that can score in bunches throughout a game. Damon has the opportunity to play division 1 or division 2.
#33….. Brayden Foster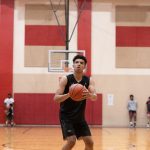 Brayden Foster 6'8" | C Highlands | 2024 State PA / 6'8 center / Highlands High School / moved up 14 spots / His agility and strength make him a major force in the post with quality footwork. The ability of this performer stands out on both ends of the court while owning the paint. Brayden has the size to play division 1 and will more than likely have that opportunity in the future.
#35….. Liam Mignogna Liam Mignogna 6'7" | C Hampton | 2024 State PA / 6'7 center / Hampton High School / moved up 33 spots / He is a dominating big man with the toughness and work ethic to help his teammates succeed during a contest. A skilled shot blocker is a difference maker on the defensive side of the floor. Liam is a solid division 1 prospect with division 2 interest as well.
#36….. Keino Fitzpatrick Keino Fitzpatrick 6'0" | SF Montour | 2024 State PA / 6'2 wing forward / Montour High School / moved up 16 spots / The ability and skill set of this talented performer makes him a match up problem for any opponent. On the perimeter he can knock down the jumper, while utilizing his quickness to get to the basket as well. Keino is a division 3 recruit with other level possibilities.
#37….. Brandon Banks Brandon Banks 5'11" | SF Aliquippa | 2024 State PA / 6'0 shooting guard / Aliquippa High School / moved up 12 spots / A shifty and athletic guard that portrays strong leadership qualities for his team. He brings the football mentality to the hoop court and it shows frequently throughout a game. Brandon is a division 1 football recruit.
#45….. Jake Wolfe Jake Wolfe 5'10" | PG Montour | 2024 State PA / 6'0 shooting guard / Montour High School / moved up 12 spots / This "lights out" shooter has a quick release and gets open consistently. Watch for him to really put up the points this year on the hardwood for the Spartans. Jake plays multiple sports so he will have some decisions to make as far as a college future.