Prep Hoops Missouri recently released its newly updated Class of 2025 Rankings. We continue the positional breakdowns with a look at the shooting guards/wings.
Corbin Allen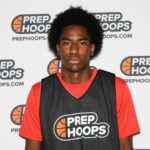 Corbin Allen 6'4" | SG Oak Park | 2025 State MO (Oak Park): A talented 6'4″ guard who stuffed the stat sheet and did many things well as a freshman starter for the Northmen. He averaged 15 points, nine rebounds, three assists and two steals in a very impressive first varsity campaign. He can take over at the point when needed or play off the ball and score while also rebounding and playmaking for his teammates. He played for VWBA Team YOBO 17Us during the summer. He also has a Division I offer from Lamar.
Trey Williams (Vashon): The 6'0″ shooting guard provided tremendous perimeter shooting for the Wolverines during their run to the Class 4 state championship last season. He displayed a confident shooting stroke from Day 1 as he shot 47 percent from long distance as a freshman. He had a big summer for the SW IL Jets at both 15U and 16U as he showcased his versatile scoring skills to accompany his long-range shooting. He has received a number of scholarship offers from the likes of Mizzou, SEMO and Louisiana Monroe.
Luke Walsh
Luke Walsh 6'1" | SG Vianney | 2025 State MO (Vianney): The 6'1″ guard took only one season to establish himself as one of the top perimeter shooters in the state. He knocked down 102 triples as a freshman while shooting 36 percent from long distance. He also averaged 14.9 points and three assists a game. He shoots it off the catch and he moves well without the ball and comes off screens well ready to score. He can also create a shot off the dribble to compliment the shooting. While playing for Bradley Beal Elite 15Us, he received offers from George Mason and SEMO.
Dierre Hill Dierre Hill 6'0" | CG Vashon | 2025 State MO (Vashon): The 6'0″ guard has emerged as one of the top two-way performers in the class. He's a solidly built player who excels on the defensive end with his on-ball pressure and excellent tenacity. During the summer with the SW IL Jets, he showcased his offensive prowess in a number of tournaments. He attacks the basket well and score in the paint with his physical strength. He also displayed a feathery touch from 3-point range. He has received Division I offers from the likes of Missouri, SEMO and UIC.
Collin Clark (Greenwood): A 6'6″ wing player with excellent length and a very nice skill set. He stepped right into the varsity lineup as a freshman and showcased his smooth stroke from 3-point range. He is also a good ball handler with very good playmaking skills and a nice feel for the game. He can also get into the lane and rebound effectively. He had a very good summer playing for the Yanders Law 15U squad.
Terron Garrett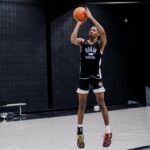 Terron Garrett 6'5" | SG CBC | 2025 State MO (CBC): A slender 6'5″ wing player who is a talented offensive player. He has ideal size for a shooting guard and a feathery touch from 3-point range off the catch. He can also get into the lane and elevate over defenders for the pull up jumper in the lane. After a solid summer with the MoKan Elite 15U squad, he should be ready to step into a bigger role for CBC as they attempt to defend their Class 6 state championship.
Caleb Estes Caleb Estes 6'1" | SG Oak Park | 2025 State MO (Oak Park): A talented 6'2″ guard who put together an impressive freshman campaign to help the Northmen to a 16-10 record. He is an excellent slashing threat who can score in the lane or also knock down the pull up jumper. As a freshman, he averaged 15.8 points, 4.4 rebounds and two steals a game. He also has very good defensive instincts and anticipation.
Dillon Duff Dillon Duff 6'3" | SG DeSmet | 2025 State MO (DeSmet): A 6'3″ shooting guard who came up to the varsity level as a freshman and had some impact performances with his perimeter shooting skills. He had a big 19-point performance against Parkway West in the championship game of the Circle 7 Tournament. He has good size and athleticism to go along with his 3-point shooting prowess. He had a productive summer with the Gateway-Knights UA 16U squad. He is also a talented quarterback on the football field and a nice prospect in that sport as well.