Yesterday we published our updated Class of 2024 prospect rankings. By now you are familiar with the names who have remained at the top list for a year or more. Names like five-star recruits Robert Wright III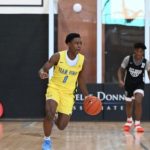 Robert Wright III 6'0" | CG Neumann-Goretti | 2024 State PA and Ahmad Nowell Ahmad Nowell 6'2" | CG Imhotep Charter | 2024 State PA .
So today we will dig deeper into the Pennsylvania Class of 2024 rankings and review six players who used the July grassroots circuit as well as showcase and camps during August to increase their recruiting stock significantly.
Below are six southeastern Pennsylvania 2024 stock risers you need to keep an eye on for the remainder of "fall ball" events and into the 2022-23 high school season.
6 to 3… Touari "Deuce" Ketner Touari "Deuce" Ketner 6'7" | PF Bonner-Prendergast | 2024 State PA – 6'7" / Bonner & Prendergast / K-Low Elite / Power Forward: Ketner isa smooth and athletic big who can score with his back to the basket or via his polished face up game. Ketner is also one of the best passing big men in the region. His ability to identify double teams and quickly move the ball to an open teammate is next level. During July and August, he displayed a much-improved jump shot with range out to 17 feet. Additionally, he appears to have added significant muscle to his frame. Holds offers from Drexel, Albany, and Robert Morris.
64 to 7… Matt Gilhool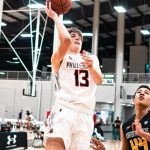 Matt Gilhool 6'9" | C Westtown School | 2024 State PA – 6'10" / Westtown School / Philly Pride National / Center: Gilhool is a double-double machine who runs the floor like an athletic wing and can operate in tight spaces like a guard. Plus, he can bang on the interior where he finishes through contact with both hands. This summer, Gilhool added three ball range to his jumper and that's one of the main reasons he skyrocketed up our rankings. With his size, speed and coordination, Gilhool could be a tremendous stretch-4 at the college level. Gilhool now holds a dozen DI offers.
61 to 25… Thomas Sorber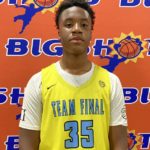 Thomas Sorber 6'8" | PF Archbishop Ryan | 2024 State PA – 6'9" / Archbishop Ryan / Team Final EYBL / Power Forward: Simply put, this summer Sorber (pic above) proved he has developed into the most dominant interior prospect in the region. With his physique, foot work and instincts, Sorber establishes position on the blocks easily and once that happens there is no stopping him. He can score over both shoulders while absorbing a ridiculous amount of contact. Sorber is also a beast on the offensive glass. In July and August, he exhibited a developing face up game as well. Sorber holds offers from 15 division one schools.
82 to 76… Nelson Lamizana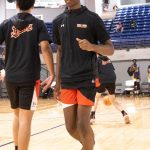 Nelson Lamizana 6'9" | SF Bonner-Prendergast | 2024 State PA – 6'3″ / Bonner & Prendergast / Philly Pride National / Power Forward: Lamizana has always been a long, athletic prospect who could run the floor well, finish fast breaks with authority and score via second chance opportunities. This summer he continued to display improved half-court skills, especially a nice mid-range game jumper. Plus, he consistently attacked the rim off one or two dribbles. On the grassroots circuit, Lamizana was grabbing offensive rebounds, powering through contact, and dunking the ball with authority. At the other end Lamizana provided intimidating rim protection. He holds an offer from Fairfield.
NR to 154… Justin Houser Justin Houser 6'11" | C Phelps School | 2024 State PA – 6'11" / Phelps School / NJ Scholars Elite / Power Forward: This powerful (200 lbs.) and versatile lefty forward was a major reason Scholars crushed the competition on the July circuit. Houser has a reputation as an intimidating shot blocker and a tremendous rebounder, but this summer he proved to be a well-rounded scoring threat as well. He can get buckets in transition or in the half-court. He possesses solid foot work and a refined post game, so Houser can score from the blocks. Houser dabbles on the perimeter too, where he will drain the occasional 3-ball. Holds offers from Mount St. Mary's, Lafayette and NJIT.
241 to 205… Kevin Rucker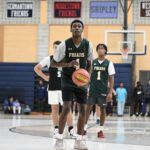 Kevin Rucker 6'5" | CG Bonner & Prendergast | 2024 State PA – 6'6" / Bonner & Prendergast / We R1 UAA / Power Forward: Rucker's 38-point game at Philly HS Live II in late June set the stage for a monster July and August. Rucker's versatility really grabbed the attention of college coaches and scouts. He is a long athlete with significant hops, so he can play in transition or mix it up on the interior. He is also a dependable ball handler and can shoot jumpers from all over the perimeter as well. That skill set was on full display at the Check Rock League in August when Rucker was simply un-guardable. Rucker holds offers from Drexel and Rider.