Yesterday we published our updated Class of 2024 prospect rankings. By now you are familiar with the names who have remained at the top list for a year or more. Names like five-star recruits Robert Wright III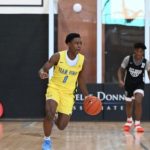 Robert Wright III 6'0" | CG Neumann-Goretti | 2024 State PA and Ahmad Nowell Ahmad Nowell 6'2" | CG Imhotep Charter | 2024 State PA .
So today we scoured the Pennsylvania Class of 2024 rankings to reveal five players who earlier this week appeared in our 2024 rankings for the first time.
Below is a review of five southeastern Pennsylvania 2024 prospects who made their rankings debut in our latest update. 
NR to 50…Reggie Selden, Jr. – 6'2" / Bonner & Prendergast / NJ Hilltoppers / Combo Guard: In 2021-22 this South Jersey native averaged 12.7 ppg. as a starterfor Bishop Eustace (NJ) and was widely considered one of top 2024 guard prospects in the Garden State. Over the summer Selden (pic above) transferred to PCL rising power Bonner & Prendergast, so he quickly jumped into the Top 100 of our 2024 rankings.His quickness, attacking style and filthy handles enable Selden to push the rock at a level few other guards can match. In the half-court, those assets plus his change of pace skills and solid frame enable Shelden to get to his mid-range spots or all the way to the cup. He is a high IQ distributor who drops dimes on waiting big men and excels at drive and kick scenarios.
NR to 168… Christian Durham Christian Durham 6'5" | SG Archbishop Ryan | 2024 State PA – 6'5″ / Archbishop Ryan / Team Final Red / Wing: Another of New Jersey's top prospects makes the move to the PCL, as Durham (20.8 ppg. last season at Paul VI in NJ), is now enrolled at Archbishop Ryan. He dropped a season high 33 points on two separate occasions in 2021-22. Durham caught our eye during the July 2022 circuit with his ability to score at all three levels. This athletic wing uses his high percentage 3-point shooting to draw defenders out, thus setting up his quick dribble drive game. When he penetrates the lane, Durham can score through contact with either hand. Or he can throw on the breaks then knock home a stop and pop jumper. As a bonus to his offensive skills, Durham is a superior on ball defender.
NR to 191… Jahseir Sayles Jahseir Sayles 6'5" | SG Plymouth Whitemarsh | 2024 State PA – 6'5″ / Plymouth Whitemarsh / Philly Pride National / Shooting Guard: One of the breakout stars of the 2022 Philly HS Live sessions, Sayles grabbed our attention with his skilled all-around game. Most impressive was the ability of this long and a wiry prospect to grab a defensive rebound, get downhill and go coast to coast. Plus, in the half court Sayles is effective at using a few dribbles to push past a defender, then stopping on a dime and elevating for a jumper. Sayles owns amazing athleticism, quick reactions, and keen basketball instincts. That trifecta makes him an effective shot blocker.
NR to 201… Julian Sadler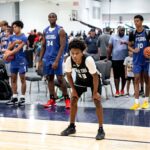 Julian Sadler 6'2" | CG Perkiomen Valley | 2024 State PA – 6'2″ / Perkiomen Valley / Prim3 Tim3 / Combo Guard: To label Sadler as a downhill, attacking backcourt prospect is an understatement. Throughout the July circuit, this dynamic lefty's frenetic pace and creative dribbles applied continuous pressure on opposing defenses. Sadler gets into the paint for lay ups, drop passes to waiting big men or drive and kick assists. Sadler is also an effective one / two dribble pull up shooter. When Sadler is not creating off the bounce, he uses his "logo range" jump shot to drain spot up triples from all around the arc.
NR to 222… Kmari Smith Kmari Smith 6'2" | CG WC Henderson | 2024 State PA – 6'2″ / WC Henderson / 610 City / Combo Guard: During summer 2022 this multitalented guard scored the ball at an elite level on the grassroots circuit and at the WCU Summer League. Thus, he jumped into our most recent rankings at No. 220. Smith can put points on the board in a variety of ways. He can slash to the cup, then finish with either hand. This high IQ guard can also use the dribble drive to create opportunities for himself and teammates. Smith's high percentage perimeter shooting keeps defenders from sagging off to prevent his continuous drives into the lane.