Prep Hoops Missouri just released its updated Class of 2024 rankings last week. We continue our positional breakdowns with a look at a second group of shooting guards/wings from the class.
Aidan Burns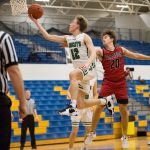 Aidan Burns 6'3" | SG Thayer | 2024 State MO (Thayer): A talented 6'3″ guard who helped Thayer to a third-place finish in the Class 3 state tournament last season. He has good athleticism and a high motor with the ability to get buckets at all three levels. His top game was a 30-point performance against host Bolivar in the championship game of the Bolivar Tournament. He had a productive summer playing for the Brad Beal Elite 16U squad. He can also slash and drop some nice dimes on the move. He figures to be one of the top scorers in the SWMO area with a greater offensive load as a junior.
Jay Reynolds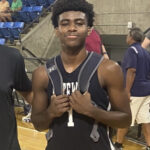 Jay Reynolds 6'3" | SG Cape Girardeau Central | 2024 State MO (Cape Girardeau Central): A talented 6'3″ shooting guard who comes to Cape Central from Ohio, as he is the son of new SEMO assistant coach J.R. Reynolds. He joined the Gateway-Knights UA squad in mid-summer and had some very productive games after averaging 16 points a game during the high school season. He has good size and he's a versatile offensive player who can drive the ball, create off the dribble and hit perimeter jumpers. His presence will bolster the Tigers as a contender in Class 5 this upcoming season.
Ramzi Salem Ramzi Salem 6'3" | CG John Burroughs | 2024 State MO (John Burroughs): A 6'3″ shooting guard who plays a smooth game with his handles and playmaking ability. He has an excellent mid-range jumper, but he can also ring the bell from long distance as he made 38 percent of his 3-pointers last season. He also averaged 10 points, five rebounds and three assists in helping the Bombers to a berth in a district championship game. He is also capable of playing the point guard role when needed. He spent the summer playing with the Brad Beal Elite 16U squad.
Bryce Spiller Bryce Spiller 6'4" | SG Lutheran North | 2024 State MO (Lutheran North): A 6'4″ shooting guard who transfers to North from Edwardsville, IL in metro east St. Louis, where he will play for his father, who is the Crusaders' new head coach. He is a talented perimeter player who has really built up his body in the past couple of years to become a well-rounded offensive player. He is a very capable 3-point shooter who can also attack the basket and score through contact. He averaged 12 points a game as a sophomore at Edwardsville. He played with the SW IL Jets 16U squad during the summer.
Aidan Lawlor Aidan Lawlor 6'4" | SG Barstow | 2024 State MO (Barstow): A 6'5″ wing from solid fundamentals and a versatile skill set. He helped Barstow to a Final Four appearance in Class 4 as a forward who excelled inside and at the high post. He continued to move his game out to the perimeter last season with improved ball handling and extended range from 3-point territory, which makes him a big matchup problem on offense. He can shoot it off the catch and he can also hit defenders with a nice ball fake to set up a jumper off the bounce.
Brady Nicholson Brady Nicholson 6'4" | SG Ash Grove | 2024 State MO (Ash Grove): A talented 6'3″ guard with nice skill level, good bounce and the ability to score at all three levels. He has extended range from beyond the 3-point line and he also has the smooth handles to create his own shot off the dribble. He can get to his spot and elevate for the mid-range jumper and he can score on nice takes in the lane with either hand. He can also drop off a nice dime to an open teammate while on the move.
Blayne Harris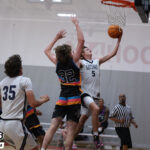 Blayne Harris 6'4" | SG Jackson | 2024 State MO (Jackson): A 6'4″ wing guard who has been a fixture in Jackson's starting lineup since his freshman season. He has good size and athleticism along with a nice shooting stroke from 3-point range. He also has a nice shooting touch from the mid-range area, where he can pull up off the dribble with good elevation or he can catch it on the move with good balance to shoot it. He can also drive it and score on strong takes to the basket. He spent the summer playing with the Gateway UA 16U squad.
Cooper Francis Cooper Francis 6'4" | SG Salisbury | 2024 State MO (Salisbury): An athletic 6'3″ wing who came back strong after missing his freshman year with an injury to have a big sophomore year in leading Salisbury to a 23-3 record and a Class 2 district championship. The explosive lefty entertained local fans throughout the winter with impressive slam dunks, alley-oops and slashing drives to the basket for buckets. He can also stop and pop from the mid-range area. He is also a strong rebounder and a versatile defensive player who can excel anywhere on the court. He played with the MoKan Select 16Us during the summer grassroots season.