Prep Hoops Missouri recently released its updated Class of 2024 rankings. We continue our positional breakdowns with a look at the first group of forwards and post players.
Jadis Jones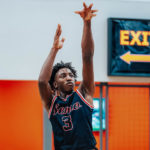 Jadis Jones 6'5" | SF New Madrid Central | 2024 State MO (New Madrid Central): The athletic 6'5″ forward led the Eagles to a third-place finish in the Class 4 state tournament last season. The lefty is a tremendous rebounder with a quick second and third jump and a hunger to get the basketball. He averaged 17 points and 10 rebounds a game as a sophomore. He can score around the paint and he can also beat defenders off the drive with his quickness. He can also hit the open jumper from the high post. He played with the Brad Beal Elite 16Us during the summer.
Iziah Purvey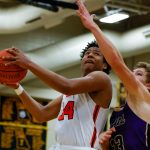 Iziah Purvey 6'5" | PF Webster Groves | 2024 State MO (Webster Groves): A 6'5″ forward who made major strides as a sophomore as he helped the Statesmen to the Class 5 state championship last season. He is a matchup nightmare with his big body and high skill level. The big lefty can score in the paint with a variety of moves while also being able to step outside to knock down 3-pointers. He can score on a variety of escape moves and back down dribbles against any defender of any size. He averaged 13 points a game last season. He played with the MoKan Elite 16Us during the summer.
Jayden Renfrow Jayden Renfrow 6'7" | SF St. Michael The Archangel | 2024 State MO (St. Michael the Archangel): A talented 6'7″ small forward who is very skilled with excellent athleticism and versatility. He has a smooth offensive package with the ability to score at all three levels. He can shoot the 3-pointer off the catch and he can knife into the lane for nice finishes in the lane. He has a quick first step and a long stride to get to the basket. He is also very good on the offensive boards with his high and quick second jump inside. He is primed to have a big junior season for the Guardians. He played with the Phenom Boys during the summer grassroots season.
Quinn Sunderland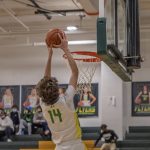 Quinn Sunderland 6'9" | PF Lindbergh | 2024 State MO (Lindbergh): The 6'8″ forward made a big improvement over the course of the summer while playing with the Gateway-Knights UA 16U squad. He is one of the best rim protectors in the class as he blocks and alters shots with his length and timing. He also has the athleticism to execute the chase-down block. He also became more assertive on the offensive end with his ability to post up and finish around the basket with more strength and confidence. He has a big upside as his game is starting to emerge.
Javar Galbreath Javar Galbreath 6'5" | PF Father Tolton | 2024 State MO (Father Tolton): A solidly built 6'5″ forward who has a good combination of strength and athletic ability. He has good moves in the low post and he can beat defenders off the dribble from the perimeter, including a nice spin move which he executes in traffic for a bucket. His defensive instincts are very good as he plays the passing lanes well for steals while also being able to block shots inside. He played with the Michael Porter Jr. Elite 16Us during the summer. He moves over to Tolton after playing his first two seasons at Fulton.
Oliver Kokal Oliver Kokal 6'5" | SF Parkway Central | 2024 State MO (Parkway Central): The 6'5″ small forward is a versatile talent who can excel inside or on the wing with his athleticism and skill set. He has a nice mid-range jumper where he elevates over defenders. His step-back jumper is also effective. He can also get into the paint and throw down a dunk over an unsuspecting defender. He averaged 15 points and seven rebounds a game while shooting 48 percent from the field last season. He played with the Brad Beal Elite 16Us during the summer.
Adam Rickman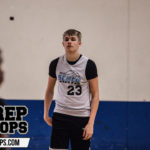 Adam Rickman 6'6" | SF Borgia | 2024 State MO (Borgia): A 6'6″ combo forward who is one of the best in the state at attacking the basket and scoring in the lane through contact and heavy traffic. He can get into the lane with his crafty handles or straight-line drives and he can score with either hand around the basket. He plays with a strong motor at both ends of the court. He averaged 16 points and eight rebounds as a sophomore.
Jacob Lafferty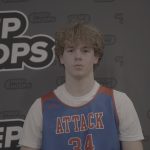 Jacob Lafferty 6'5" | PF Sparta | 2024 State MO (Sparta): An athletic 6'5″ power forward who is a physical beast around the basket. He's is strong and he plays with a lot of force in the paint with his ability to throw down big dunks in traffic. His drop step move is tough and he has good footwork inside to go along with his explosiveness. He can also score off the dribble on tough dribble-drives from the high post. He spent the summer playing up at the 17U level with the All-Missouri Attack.
Nelson Shinkle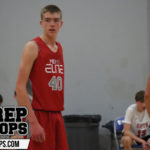 Nelson Shinkle 6'8" | PF Jefferson City | 2024 State MO (Jefferson City): A 6'8″ forward who is transferred to Jefferson City after spending his first two years at Knox County. He is a skilled young big with good mobility and footwork around the basket. He has a soft shooting touch inside with both hands. He's long and lean, but he can be assertive when things get physical. He can also handle the ball on the perimeter and knock down a jump shot. He played with the Mid Mo Elite 16Us during the summer.