UnCommon Basketball (UC) is a program created by 20 year college coach Russ Vanlandingham, with the intention of promoting under seen prospects by projecting levels and fits at the next level. With his vast experience of the college game Coach "V" runs a tight camp with no gimmicks. No one cares about your rankings here. You have to out work and beat out the guy next to you. Check out my analysis from some of the top performers from the event!
Gary Brown III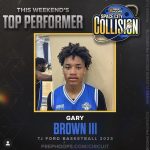 Gary Brown III 5'10" | PG Pasadena Memorial | 2024 TX 2024 5'10 Pasadena Memorial High School
Gary is a next high level point guard who calmly scores and makes elite decisions with the ball in his hands. He is a lightning quick point guard who creates separation with every crossover he makes. I was very impressed by the control he displayed when operating out of the pick and roll and the timely decision he made that round his teammates open at just the right time. He is an incredibly dynamic and aware point guard who knows how to pass his teammates open, but also scores off the bounce with the best of them. Where Brown really makes his mark is his ability to hit shots from beyond the arc off the bounce. He hit multiple tough shots this weekend, including one in the drills segment where he had gotten the ball poked loose and he sprinted to the corner to pick it up before it rolled out of bounds and got a shot up when he noticed the defender was a step too late on contesting him on a loose ball! Brown and Robert Miller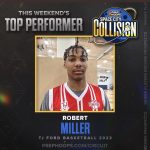 Robert Miller 6'9" | PF Pasadena Memorial | 2024 State TX are going to be a NASTY one-two punch for Pasadena Memorial High School this year, make sure you get out and see them in action if you can…
Derrick Buckner 2025 6'0 Atascocita High School
Derrick is an all around point guard who looks to have all of the necessary tools to create for his teammates and get his own shot off. I was very impressed by the toughness, energy and motor that he displayed this weekend, constantly going hard and looking to attack the defense every time he had the ball in his hands. He made excellent reads in the open court, and had a few dimes on full court passes that hit his teammates in stride and allowed them to quickly get a shot up on the other end. Buckner played extremely well out of the pick and roll, using that separation to not only knock down shots from the perimeter, but found his rolling big-man with a pin point pass at just the right time so he can catch it and go up quickly and strong. Buckner and his 2024 Atascocita teammate Jerrell Barron Jr should have a special connection on the court together, and the two of them can become a dynamic duo for the Houston powerhouse that just went to the 6A title game. Atascocita is an incredibly well coached group of athletes who just graduated a number of seniors, (and got them to the next level) ideally opening up the floor for Buckner and his teammates. I know I will be in the gym to watch them this season!
Mason Walker 2023 San Antonio- Churchill High School
Mason is a skilled and intense scorer who takes pride in hitting shots in the mid-range and beyond the arc, but also defending at a high level. He stood out by his ability to hit shots off the bounce, scoring at one of the highest levels by the kids in attendance at the event. However his shot making is not my favorite aspect to his game, it has to be his intensity and willingness to pick up on ball defenders. He loves getting low and moving his feet to cut off driving angles on his opponents, and was willing to get underneath his opponent's skin by his positioning and ability to get his hands involved in on the play. Walker has been a constant producer for Churchill High School, and has another skilled scorer in the back court with him Jarek Schmittou, and a skilled 3/4 in Mikhali Roberts. If you are in the San Antonio are be sure to get out and see Churchill this year!
Dylan Gonzales 2023 5'11 San Antonio- Wagner High School
Dylan is a complete scorer who really stood out through his performance in every aspect of this camp, making high level reads and knocking down shots at a very consistent clip. All of the college coaches in attendance were raving over the high level plays he was making every time down the court. He took good shots only when he was open and had time to step into his shot, and always makes the right decision and found his teammates with the right pass at just the right time. I was very impressed with how well he played even when he was fatigued, his shot still had the same mechanics and result, even when his legs were dead at the end of the five hour camp. Wagner High School just lost two senior guards, so Gonzales will have a chance to step in and produce for his team right away.