The class of 2024 is absolutely loaded at the power forward position. While some of them may end up on the perimeter on the next level, these forwards can put in work in the paint. These forwards are some of the most skilled that the state has had in some time. From the top player in the class to players in the 120s, the power forward position has an abundance of talent that coaches will love to see on the next level.
1. Trey'dez Green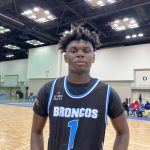 Trey'dez Green 6'8" | PF East Feliciana | 2024 State LA (6'8″ | East Feliciana)
Green was one of the top players on the Prep Hoops circuit and might have been one of the top players on all circuits throughout the summer. He has a motor that seems to be nonstop and he has an array of moves when it comes to scoring in the paint. His activity and skill make him the best power forward this class has to offer.
2. Todd Jones Todd Jones 6'8" | PF Newman | 2024 State LA (6'8″ | Newman)
Jones already had a nice scoring touch in the paint especially over his left shoulder. He is also one of the best transition players we have in the Boot. Jones gives guards a good target when he runs rim-to-rim while on the opposite end he blocks shots in and outside of his area. He is one of the more talented posts not only in the state, but around the south.
3. Jeremiah Evans Jeremiah Evans 6'8" | PF Southwood | 2024 State LA (6'9″ | Southwood)
Evans may have the most expansive offensive repertoire of any forward on this list. He is a player who can take other bigs off the dribble, pass from the high post, and shoot the three. Evans is a force around the rim as well and can dominate on the high school floor at times. He is a threat from anywhere on the floor.
4. Allen Graves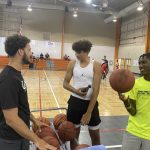 Allen Graves 6'8" | PF Ponchatoula | 2024 State LA (6'8″ | Ponchatoula)
Graves is a rebounding force in the paint and he may be a double digit per game type of player this season. Where he makes a big difference on the offensive end is his three point shooting. Graves is almost automatic from the corner three and his shooting opens up the floor for other opportunities. His improvement makes him a very dangerous player.
5. Javonte Thomas Javonte Thomas 6'6" | PF Pineville | 2024 State LA (6'6″ | Pineville)
The Rebels have a reason to be optimistic about their season because they have a game changing big man at the four. Thomas is one of the most athletic rim protectors and paint scorers we have in Louisiana. His ability to command attention in the paint makes him a huge threat. When he is playing well, Pineville is hard to beat.
6. Malik Miner Malik Miner 6'9" | PF John F. Kennedy | 2024 State LA (6'9″ / JF Kennedy)
One of the biggest surprises in the state is how Malik has begun to develop going into his junior season. He is an above average rim protector and his ability to run the floor and finish is already at a high level. Miner has shown the ability to step out and shoot as well. He has the upside to be a top ten player before his time is done at JFK.
7. Chad Jones Chad Jones 6'7" | PF St. Thomas More | 2024 State LA (6'7″ | St. Thomas More)
Jones is one of those players that may develop into a wing on the next level. Right now though, he is a slender power forward who can rebound and protect the rim. Jones has a ton of length to go with his athletic ability. His offensive and defensive talent mixed with his length and athleticism makes him a player to keep your eye on.
8. Chris Leman Chris Leman 6'7" | PF Newman | 2024 State LA (6'7″ | Newman)
Leman may not be a starter but he is one of the more skill two-way power forwards we have. He has a very good lefty jump hook he uses after he swoops into the paint from the right block. Leman also has long arms that allow him to extend on shots and to grab rebounds in traffic. He may be a secret weapon in the Newman push for state.
9. Hubert Caliste Hubert Caliste 6'6" | PF St. Augustine | 2024 State LA (6'6″ / St. Augustine)
Caliste is still one of the better offensive players to play power forward in the state. He has great footwork, can handle the rock, and will score using various offensive moves. His outside touch opens up the floor for him to take players off the dribble. Once a freshman on a senior-laden team, Caliste is now that wily vet who has the ability to lead the Purple Knights into victory
10. Lance Clark Lance Clark 6'5" | PF Episcopal | 2024 State LA | 6'5″ | Episcopal)
Clark may be the smallest power forward in this group. However, he packs a lot of punch when it comes to playing in the paint. Clark can score from either block and has a quick second jump. He is also very strong and takes plenty of contact when he is hit. Clark may be small for a power forward but he plays like he is four or five inches taller.
The power forward position in this class is a recruiting group that may go down in the history of Louisiana classes as one of the best. There are some good players in the bottom half of the rankings that will make good power forwards on the next level. The class of 2024 is loaded with talent and these power forwards personify that.