New Jersey has a very deep class this year and there are a host of talented players who are in the "under-recruited" category across the Garden State. Today we look at some guards who are set for strong senior years that college coaches should be paying close attention to.
Jackson Bleeker Jackson Bleeker 6'3" | SG Seton Hall Prep | 2023 State NJ   | 6'4" | G | Seton Hall Prep
Bleecker's stock has been rising since leading the Pirates to the county title as a junior. An excellent shooter who has solid form on his shot. He's a good facilitator and can move without the ball. Solid understanding of the game and high grades(NHS member) should make him very valuable to college coaches. He had 27 vs Columbia and 23 vs Irvington as top games as a junior.
Isaiah Fuller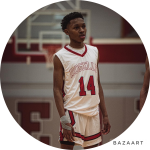 Isaiah Fuller 5'11" | PG Roselle | 2023 State NJ  | 5'11" | G | Roselle High
Fuller arrived with big expectations after transferring from Eagle Academy in NYC, but was derailed by an injury. He's a heady guard who handles the ball well, facilitates in the halfcourt and can shoot it. He plays 100mph at all times and was very active for AAU and his HS team this summer. We saw him at Johnson Regional in a local showcase and you would have thought it was the Union County Final–He was on the floor, in the stands–A hustle player who colleges at the scholarship level should take note of.
Christian Pierre-Louis Christian Pierre-Louis 6'2" | SG Roselle Catholic | 2023 State NJ  | 6'2" | G | Roselle Catholic
The most under-rated, highly rated player in New Jersey. He's a very good ballplayer but never gets the love in the rankings–overshadowed by his teammates, CPL does the little things that score victories. A rugged lefty who attacks the rim strong. He may be the best defender in the state. Solid AAU run with the Jersey Force has interest rising. Someone is going to get an absolute STEAL in CPL.
Evan Cabral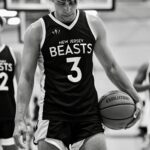 Evan Cabral 6'2" | CG Don Bosco Prep | 2023 State NJ  | 6'2" | G | Don Bosco 2023
A solid two way guard who plays a supportive role for the Ironmen but can score when called upon. He's got a strong build and finishes through contact well. He's capable on the break but can also operate in the half court. His top games as a junior were vs Ramapo(22) and Seton Hall Prep(22). He's an All-County type player who is going to be a backcourt leader for an absolutely loaded Don Bosco Prep team. A scholarship level guard who teams should be contacting regularly.
Isaac Hester Isaac Hester 6'0" | PG Ranney School | 2023 State NJ | 6'0 " | G|  Ranney
Hester is the top senior at the Shore this season. A do-it-all-well guard that breaks down defenders off the dribble and gets to the basket but can also light it up from deep. A facilitator turned scorer after the Panthers lost a ton of talent to transfer. He should see significant interest into his senior year. He had 20 vs Trenton Catholic in states as his top game last year.