PHI recently unveiled our first look at the Illinois class of 2025 with our initial top 60 rankings. It is still EXTREMELY early in the process and there will be a ton of movement and more prospects to emerge over the next three years. Here is a look at some of the top prospects we have seen at this stage in Top 2025 Wings!
Melvin Bell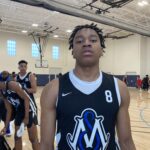 Melvin Bell 6'4" | SG St. Rita | 2025 State IL (St. Rita)
Current Ranking: #1
Bell holds the top spot in our initial rankings of this class. It was a tight contest between him and Fears, but Bell edged out because of what we saw during his freshman season before his injury in April. He has all the tools you look for in a young shooting guard with his size, skill, and athleticism. Bell has an effortless scoring game with extreme springs around the hoop finishing. He stepped in right as a freshman proving he was ready to play big time competition looking every bit the high-major prospect that he is.
Antonio Munoz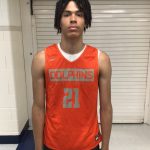 Antonio Munoz 6'6" | SF Whitney Young | 2025 State IL (Whitney Young)
Current Ranking: #3
Munoz has a ton of physical tools that jump out at you. Great size and broad shoulders. Long arms and freakish athleticism at a young age. He is at his best getting out in transition for finishes above the rim. For the Dolphins this year the small forward might be utilized as more of a post, but at the next level he is a wing with two way potential.
Phoenix Gill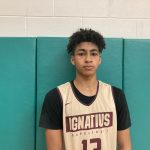 Phoenix Gill 6'1" | PG St. Ignatius | 2025 State IL (St. Ignatius)
Current Ranking: #4
Gill popped to us at Ridgewood in June. Doesn't play on the travel team circuit or do many camps so that was our best eval of him. In our looks at him he lived up to the hype with his long and lanky frame. Slender build allows him to slither through the defense for buckets with such easy ball handling. Overall has a good feel for the game and anticipates well defensively early in the process.
Bradley Longcor Bradley Longcor 6'2" | SG Quincy | 2025 State IL (Quincy)
Current Ranking: #6
Longcor had an outstanding freshman campaign for Quincy. The two guard has a lanky frame with good athleticism. Plus shooter that consistently made shots every chance we got to see Quincy play. Creative ball handler that wins off the dribble and passes with flair being able to play on the ball at times.
Terrence Smith (Aurora West)
Current Ranking: #7
This small forward put his name on our radar with My Journey and his high school team. Athletic and wiry three man that loves to get out in the open floor, attack downhill on straight line drives, and has some playmaking feel. Lot of developmental upside with the physical tools here. Should develop into a good defender.
Ian Miletic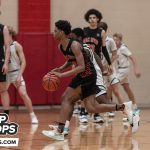 Ian Miletic 6'5" | SF Rolling Meadows | 2025 State IL (Rolling Meadows)
Current Ranking: #9
Miletic opened our eyes with his play as a freshman for Rolling Meadows. Point forward that displayed a great feel for the game. He seems to have an advanced understanding seeing things one step ahead. Shoots it well off the catch and handles in space.