The Prep Hoops staff is taking a closer look at the reigning state champions in all seven classifications, as we preview the 2022-2023 high school basketball season in the state of Florida. Our next feature is the reigning class 5A champion Stranahan Mighty Dragons, who are coming off their third state championship in school history, with all of them in the last four years.
HC: Edward Schuler, 3rd Season
Class: 5A
2021-2022 Record: 27-3
Key Returners: Hykeem Williams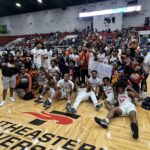 Hykeem Williams 6'4" | PF Stranahan | 2023 State FL 6-4 SF (2023)
Williams, a two-sport standout was a double-double machine last season for the Dragons and played a key role to help lead them to their state championship victory over St. Petersburg last season. Williams has expanded his range where he can either finish at the rim or from beyond the arc. Williams is expected to announce his commitment on Friday, where he is a five-star wide receiver on the gridiron where his top choices feature Alabama, Florida State, Georgia, Miami, Pittsburgh and Texas A&M.
Sleeper Prospect: Joshua Vedrine 6-4 PG (2023)
Vedrine, comes back over to Stranahan from Dillard where he will look to handle the primary ball-handling duties for the Dragons. What does Vedrine bring? Vedrine can run an offense in transition, as well as show his pure athleticism. Vedrine spent the AAU season playing for Team Knight where he was averaging double figures per game. Vedrine can also score in a variety of ways, whether it's off the dribble or in a catch and shoot situation.
Sleeper Prospect: Roland Majors Roland Majors 6'4" | SG Mater Academy | 2023 FL 6-4 SG (2023)
Majors comes over from Avant Grande Academy where he was averaging 15 points, 10 rebounds and four blocks per game as a junior last season. With the move to Stranahan, Majors is attending his fourth high school in as many years after spending his freshman season at West Broward and his sophomore season at Mater Lakes Academy. What does Majors bring to the table? Majors is a great passer, as well as rebounding and can score from all three levels (Post, Mid-Range and three point range).
Key Newcomer: Esron Simeon 6-1 CG (2025)
Simeon spent last season on the Stranahan junior varsity team where he was working as a combo guard. Simeon has been viewed as a prolific playmaker and plays with an unselfish attitude. Simeon can also score in a variety of ways, whether he is attacking the basket or getting open in space. Simeon along with Verdine and Majors have the potential to make a lot of noise in South Florida this upcoming season for the Dragons.
Key Newcomer: Claude King 6-2 PG (2023)
King comes over to Stranahan from Pembroke Pines Charter, where he will bring great court vision and knows how to control a game. King is also attending his third high school in four years, after he spent his freshman season at Blanche Ely and his last two seasons with Pembroke Pines Charter. King also is unafraid to attack the basket or finish with contact. Earlier this month, King received his first official offer from Jacksonville State University. During the AAU season with Team Knight, King averaged 10 points and six rebounds per game.