The Prep Hoops staff is taking a closer look at the reigning state champions in all seven classifications, as we preview the 2022-2023 high school basketball season in the state of Florida. Our next feature is the reigning class 6A champion Martin County Tigers, who are coming off their third state title in school history and first since 1979.
HC: John Leon, 13th Season
Class: 6A
2021-2022 Record: 27-4
Key Returners: Elijah Duval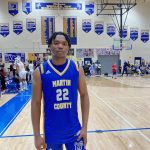 Elijah Duval 6'2" | CG Martin County | 2024 State FL 6-2 CG (2024)
Duval, is one of the top point guards in the state of Florida for the upcoming junior class. After sitting out of the state semifinals and state championship games due to an injury, he is fully healthy and will be exciting to watch this upcoming season. Last season, Duval averaged 18.0 points, 5.6 rebounds, 2.1 assists and 1.8 steals per game for the Tigers. Duval holds offers from Arkansas, Dayton, Florida State, Georgia, Georgia Tech, UCF and several others.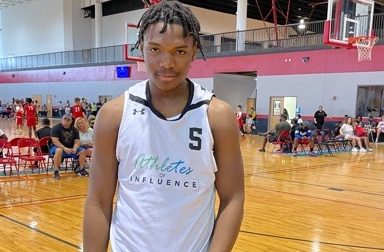 Key Returners: Cam Insalaco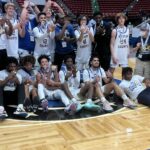 Cam Insalaco 6'2" | PG Martin County | 2023 State FL 6-2 PG (2023)
Insalaco has one of the best court visions in the Treasure Coast area and has the will to guard multiple positions on the defensive side. He was the 2022 Florida High School Athletic Association Class 6A Championship Game MVP, finishing with a game-high 18 points to help lead the Tigers to their first state championship in 43 years. According to head coach John Leon, Insalaco is also one of the hardest workers in the gym and in the weight room. 2021-2022 Stats: 8.5 points, 2.5 rebounds and 2.1 assists per game.
Key Returners: Ka'mari Haston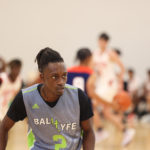 Ka'mari Haston 6'3" | PG Martin County | 2023 FL 6-3 SF (2023)
Haston is a player who can play all five positions and isn't afraid to step up to the challenge. The 6-3 small forward showed a lot of confidence in finishing at the rim and will battle for rebounds. Last season for the Tigers, Haston averaged 6.2 points, 3.2 rebounds, 2.0 assists and 1.3 steals per game. Like Duval and Insalaco, Haston will be a lot of fun to watch this upcoming season for the Tigers.
Sleeper Prospect: Charlie Winter 6-5 SF (2023)
Winter is one of the best shooters on this veteran Martin County squad this upcoming season, as he's coming off a year where he shot 67 percent from the field and 64 percent from beyond the arc in limited attempts. Winter is expected to fill the role of former Martin County Tiger Ryan Davis, who signed to play college basketball at D2 Nova Southeastern. Last season, Winter averaged just 3.6 points and 2.1 rebounds per game in 18 games played.
Sleeper Prospect: Krishawn Baggett 6-2 SG (2024)
Baggett will look to help lead Martin County to a feat that they have not accomplished since the 1975 and 1976 seasons, that is to repeat as state champions. Last season as a sophomore, Baggett was overshadowed by Ryan Davis, Elijah Duval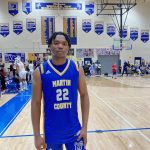 Elijah Duval 6'2" | CG Martin County | 2024 State FL and Braydin Samuels so the stats aren't what he was anticipating for heading into the season. The 6-2 junior will look to have an improved season as he will get more looks and opportunities this year.