John Lucas Enterprises hosted their annual Top boys 160 camp at Mi3 center. The camp is always filled with special talent ready to add something new to their game. My favorite is the 5-on-5 series were teams play 10 quarters for 3 minutes. Players who underperform in drills might shine in the game. This article breakdown players skillset that equals points.
Patton Pinkins – 6'5 Friendship HS Class of 2025
Pinkins is lengthy combo guard who uses the pick-n-roll frequently, and well. Is patient enough to let the play develop; whether a percision pass to the roll man or attacking the open angle himself. Showed isolation scoring abilities when the offense was stagnant. His footwork is great which is helps him knock down tough turn around shots in the mid-range. Seems to have a natural feel for the game with his style of play. Pinkins known for his smooth shooting release off the pass or dribble.
Jaxon Prunty – 6'6 Providence Day School Class of 2024
Prunty is a long guard that causes havoc defensively. Consistently in the passing lane, and rotating in help side. ave a crafty handle that defender wouldn't expect, and acrobatic finisher at the rim; if not going up for a dunk. Plays real strong for his size.
Mikel Brown – 6'0 Sunrise Christian Academy Class of 2025
Brown is a player who just have that feel and touch for the game. Possibly could be nationally ranked, and showed why with his vision and creative passes. Can create for others or for himself. Uses his eyes to throw help side defenders off before passing to the cutter. Vocal other their directing players where to go. Brown is efficient in the pick-n-roll game.
Shelton Henderson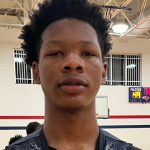 Shelton Henderson 6'6" | SG Bellaire | 2025 State TX – 6'5 Bellaire High School Class of 2025
Henderson showed his strength in all ten quarters. Downhill scorer who looks to any chance the gets. Defensively Henderson kept coming away with steals anticipating the pass.
Doryan Onwuchekwa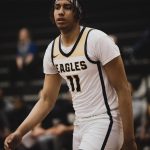 Doryan Onwuchekwa 6'11" | C Oak Cliff Faith Family Academy | 2024 State TX – 6'10 Faith Family Class of 2024
Onwuchekwa takes any advantage to use is his size as an opportunity. Interior force offensively and defensively. Enough lateral quickness to guard on the perimeter. Have chase down block ability
Nick Gunter – 7'0 OD Wyatt HS Class of 2023
Gunter is a big that likes to get out and run. He was catching lobs in transition, and moving to the right spot down low anticipating the lob. Phyisical with a motor.
Juan Guerrero Hernandez – 6'3 Grafton HS Class of 2025
Guerrero Hernandez is exciting to watch. Have lot of dribbling tools in his bag that shifts his defender off balance. Crafty and strong finisher at the rim. Plays with aggressiveness to his game.
Dink Pate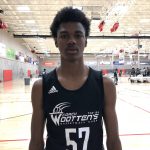 Dink Pate 6'8" | PG Dallas Pinkston | 2024 State TX – 6'8 Pinkston HS – Class of 2024
Pate ball handling is great for his length. Can create a shot for himself or find the open man. His wingspan makes it hard for defenders to stay in front of him. Plays with supreme confidence.
Montana Wheeler Montana Wheeler 5'9" | PG Houston Christian | 2025 State TX – 5'7 Houston Christian Class of 2025
Wheeler is out of his brother shadows making a name for himself. Quick guard that plays with a change of pace. Likes to push the ball for easy scoring opportunities. Have the natural feel for the game.