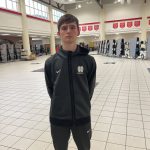 6'3" | SG | 2024
Christian Heritage | Atlanta All-Stars
Jax Abernathy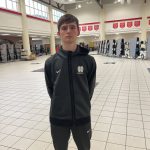 Jax Abernathy 6'3″ | SG Christian Heritage | 2024 State GA was feeling it on Thursday night, scoring from all over the court and knocking down a handful of 3s. Without the ball, Abernathy is constantly working to free himself up for an open look or a backdoor cut. He's a confident shooter and showed no hesitation to let it fly, especially after hitting a few to open the game. Abernathy already holds a D2 offer from Alabama-Huntsville but could see some D1s roll in before everything is said and done.
6'6" | PF | 2023
North Cobb Christian
North Cobb Christian faced Christian Heritage in one of the night's best games and for most of the first half, it was Albert Wilson Albert Wilson 6'6″ | PF North Cobb Christian | 2023 State GA and Jax Abernathy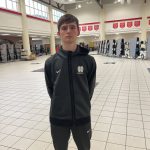 Jax Abernathy 6'3″ | SG Christian Heritage | 2024 State GA exchanging buckets. Wilson has an impressive 6'6 frame to pair with his strength and physicality. He finishes well through contact around the basket and can score from either the post or the perimeter. After creating some buzz in the RYZE Fall League, Wilson will be one to monitor during the season.
6'11" | C | 2024
Kell | Georgia Stars
Peyton Marshall Peyton Marshall 6'11" | C Kell | 2024 State GA looked a lot like his typical self on Thursday, anchoring the middle and dunking over smaller defenders. Fresh off a visit to Auburn, Marshall has been one of the state's hottest recruits lately. He was effective on Thursday night without dominating a lot of the touches. Without Morris in the game for Walton, there was simply nobody on the court that could challenge Marshall's size in the paint.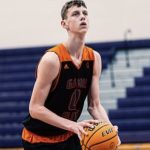 7'0" | C | 2025
Gilmer | Game Elite 360 Platinum
Jackson McVey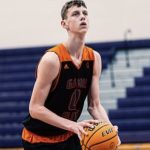 Jackson McVey 7'0″ | C Gilmer | 2025 State GA grabs your attention as soon as you enter the gym because of his physical tools. Only a sophomore, McVey stands at 7'0 with a long, rangy wingspan. In addition to McVey's size, he showed off a nice touch on his high-arcing jumper and was pretty good from the free throw line where he'll be at quite often. McVey's game will continue to develop as he adds strength and size to his frame but he's certainly a 2025 to know.
Chaz Ramsey has quietly flown under the radar as one of the top performers through the first few weeks of the RYZE Fall League. He had another big scoring night on Thursday, going for 24 points in a win over Cass. The 6'7 forward can do a little bit of everything on the basketball court and provides a lot of versatility. He can play inside or out but has spent most of his time on the perimeter lately where he can spot-up for the shot or attack the rim off the dribble.