With Summer coming to an end and Fall right around the corner, we finish our Hoops Report for hundreds of Prospects in the state of Pennsylvania. The Prep Hoops PA database is loaded with talented players from all over the state and we begin in the western region, known as the WPIAL (Western Pennsylvania Interscholastic Athletic League). This area has been football dominated for an extremely long time, but basketball has taken a big jump forward in recent years. Let's take an in-depth look at a variety of top performers on the court this upcoming high school/prep season.
Quinton Martin
Quinton
Martin
6'3" | PF
Belle Vernon | 2024
State
PA
Class of 2024, 6'4 wing forward
Belle Vernon High School
He brings the football toughness and mentality to the hoop court and can intimidate opponents
Joseph Roth
Joseph
Roth
6'4" | PF
Ellwood City | 2024
State
PA
Class of 2024, 6'5 power forward
Ellwood City High School
Not only a terrific swimmer but his basketball talent is always on the rise with his hard work
Cameron Epps
Cameron
Epps
5'6" | PG
South Allegheny | 2025
State
PA
Class of 2025, 5'7 point guard
South Allegheny High School
Despite his small size, his heart, and high motor make up for it while being a young difference-maker 
[player_tooltip player_id="1403793″ first="Amari" last="Evans"]
Class of 2025, 6'4 wing forward
High School
A high riser that has developed a perimeter jump shot to add to his growing arsenal
Brady Mayo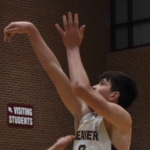 Brady
Mayo
5'10" | CG
Beaver | 2025
State
PA
Class of 2025, 6'0 shooting guard
Beaver High School
This young man has been a deadly marksman early in his career, look for more to come from him this season
MJ Stevenson
MJ
Stevenson
6'1" | SG
Gateway | 2023
State
PA
Class of 2023, 6'1 shooting guard
Gateway High School
An overall balanced shooter with a high basketball IQ which helps him be a leader on the floor for his team
Bryson Kirschner
Bryson
Kirschner
6'4" | PF
OLSH | 2023
State
PA
Class of 2023, 6'4 wing forward
OLSH High School
A skilled wing that has developed a sound mid-range jumper to compliment his post play
Jackson Kerley
Class of 2023, 6'3 shooting guard
Quaker Valley High School
This skilled performer has been putting in the off season work to get ready for a starting spot as a senior this upcoming winter
As we conclude our series of prime time prospects in the state of Pennsylvania our coverage takes us to the Western part of the state. Look for these skilled young to develop their games on the hardwood this fall to prepare for the high school basketball season. These gentleman will be fun to watch and observe while making a name for themselves in a variety of gyms in our area.