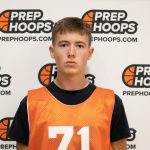 5'10" | PG | 2025
Liberty | Iowa Barnstormers
A talented 5-10 combo guard, Coapstick showed the ability to play both with and without the ball in his hands at a high level. He's a shifty guard who handles it well and he can break down a defense and get to the bucket within the halfcourt setting. He has good court vision and is also a very willing passer who will pass up his own good shot for a great shot for a teammate. When playing off the ball, he moves really well and has a quick release off the catch. He's a talented guard who should have a major role for the Lightning as a sophomore.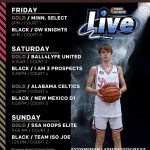 6'0" | PG | 2025
LINN MAR | IOWA BARNSTORMERS
Another skilled 2025 guard who had a strong showing for Team 3, Matson was relentlessly attacking the rim throughout the game that I watched. A long, quick 6-0 guard, he does a good job utilizing subtle head fakes or ball fakes to momentarily freeze the defense and allow him to get that extra split second he needs to get by them. Another the rim, he showed the ability to finish effectively with either hand as well as finishing through contact.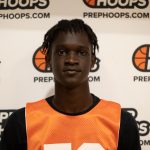 6'1" | 2024
Des Moines Lincoln
A quick-twitch athlete who can get to the rim seemingly whenever he wants, Gai is a solid ball-handler with a great first step that he uses to blow by defenders and get into the paint. He does a good job changing his speeds, which makes his first step look even quicker, and he's a creative finisher around the rim.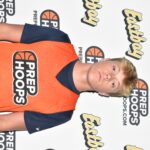 6'2" | SG | 2023
Newton | Waukee Jam
A 6-2 guard who can play with or without the ball in his hands, Bauer impressed on the defensive end on Saturday. He does a great job sitting in his stance and moving his feet to make the opposing ball-handlers work hard, and he does a good job communicating with his teammates and coaching them through screens. He's a reliable ball-handler and decision-maker who can create plays for others or get to his own shots. He has good form on his jumper, keeping his elbow nice and tight, and he showed the ability to finish through contact.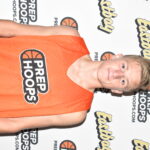 The 6-0 guard was a pleasant surprise on Saturday afternoon, competing really hard against much bigger players on the glass on both ends of the floor. He pulled down multiple offensive rebounds in traffic, outworking the bigger players. He's a solid ball-handler who showed that he can create his own shot, getting to the rim on a few occasions for tough finishes.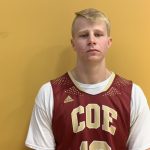 6'5" | PF | 2023
Linn-Mar | Iowa Prep
Mindrup has become one of my favorite players to watch over the last year or so, whether it's been at the Coe Junior/Senior Camp, with Iowa Prep, Linn-Mar, or at this Expo. He's a physical big man who plays hard on every possession. He takes pride in rebounding and playing solid interior defense, and he knows his limitations and doesn't try to force anything. He has good hands and touch around the rim, sets strong screens, communicates on the defensive end, and is going to do all the little things that his team needs to help them win.
6'8" | PF | 2025
Valley | All-Iowa Attack
If my First Team All-Expo had been six players instead of five, Jirak would've landed on that list. He was that good on Saturday. A mobile 6-8 big man who runs the floor hard to establish strong early position, Jirak showed really good footwork and touch on his post touches. He was decisive when he caught on the block, making quick decisions on what he was going to do, kept the ball high and finished with a few different post moves. As he continues to develop his left hand and his ability to go to countermoves, watch out, because he could become a dominant low-post scorer. He showed good timing and instincts on the defensive end, staying vertical and rarely fouling when contesting shots. The 2025 class at Valley is absolutely loaded and Jirak is going to be a key piece for that group.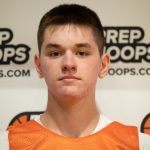 6'8" | C | 2024
Davenport Central | Iowa Barnstormers
A 6-8 lefty who can protect the paint on the defensive end, Gott has always been a pretty solid defensive player, but his offensive game is starting to develop as well. He showed a face-up game with a mid-range jumper out to about 15 feet that he was comfortable taking. The lefty has good size and is working to develop his footwork and touch around the bucket. His greatest value on the hardwood right now is as a defender. He can block shots and I really liked the way that he defended ball screens, doing a great job getting out to hedge the screen and then scramble back to his man.
Note: Lincoln Cantrall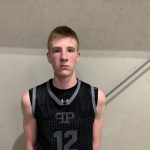 Lincoln Cantrall 6'8" | PF Southeast Polk | 2023 State IA was also on Team 3, but was already written about in the Gamechangers article.