In this article, we are taking a look at players from both ND & SD. We have the Jamestown Blue Jays who play in Class A and the Aberdeen Roncalli Cavaliers who play in Class B. Jamestown is in the WDA and Roncalli is in Region 1.
The players that we are looking at for the Blue Jays are all returning players. Some saw more minutes than others, But this group of Blue Jays looks to be a nice cast of players.
The players in this article for the Cavaliers saw some varsity minutes last season and they will see an uptick in burn this season. These two guys are young but they have the potential to both be very nice players.
JAMESTOWN
Caydann Cox (2023) |6'2 G/F|
He is a rangy wing that plays in transition very well and can knock down open 3-pointers when created for him. Cox spent the majority of last season defending the other team's best wing and will be counted on to do the same thing, but he is capable of guarding BIGs as well.
Dalton Lamp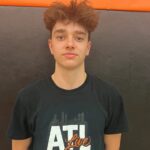 Dalton Lamp 6'1" | SG Jamestown | 2024 State ND (2024) |6'0 G|
He showed flashes of brilliance this spring/summer in AAU ball. Dalton can take a game over on the offensive end. He is a good ball handler and an improved 3-point shooter. Lamp's experience gained from the last high school season will allow him to feel more comfortable early in the year. He is also one of Jamestown's best on-ball guard defenders. I am expecting Lamp to have a splashy junior season.
Mason Lunzman Mason Lunzman 6'0" | SG Jamestown | 2023 State ND (2023) |5'11 G|
He has added strength and weight throughout the summer which will allow him to play with more physicality. Mason is very competitive and he raises the level of competition of his teammates. Lunzman also has good vision and court awareness to find open teammates.
Noah Meissner Noah Meissner 6'0" | SG Jamestown | 2025 State ND (2025) |6'0 G|
He is young but Meissner is an explosive athlete. Noah can put up points from all 3 levels, the Blue Jays like his playmaking ability. He led the Jays in 3-point percentage last year as a freshman and averaged 8 ppg. Meissner is athletic enough to defend multiple positions and has a high basketball IQ at each end. He will be a tough sophomore in the WDA.
Payton Hochhalter (2023) |6'2 G|
He is a very crafty defender and an unselfish offensive player that will hopefully look for his shot more this season. Jamestown will need Payton to look to score more than he did last year while remaining the same tough defensive player.
Ryan Larson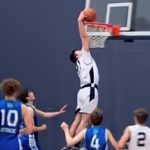 Ryan Larson 6'3" | SG Jamestown | 2024 State ND (2024) |6'3 G/F|
He plays AAU hoops with the Pentagon Schoolers and Larson has shown his athletic potential against great competition. Recently, I heard reports that Larson played very well at the University of South Dakota (USD) Elite Camp. Ryan is an explosive/physical player that can defend multiple positions and he has really improved his consistency from behind the arc. Larson has also improved his ball-handling skills and decision-making. Ryan is the Jays returning leading scorer at nearly 11 ppg last season. I am predicting a breakout year in the WDA from Larson.
RONCALLI
Aiden Fisher Aiden Fisher 5'8" | PG Aberdeen Roncalli | 2025 State SD (2025) |5'8 G|
He was the 6th/7th man last season for the Cavs, so Fisher will come into the season ready to roll as an experienced 10th grader. Aiden has a fantastic IQ for the game. He can control the tempo/flow at the point guard position by pushing the ball ahead to catch the defense out of position or slowing it down to settle his squad back in. Fisher also has great vision on the court, and he is a fearless attacker.
Darwin Gambler Darwin Gambler 6'3" | SG Aberdeen Roncalli | 2025 State SD (2025) |6'2 G|
He saw varsity minutes as a frosh and will see that time increase this year. Darwin is a very skilled basketball player. He possesses great handles and he can shoot the ball well from the perimeter. Gambler also has the ability to finish inside either off the dribble or off the catch.