Here at Prep Hoops Indiana the fall means it is time to get out to high school open gyms. Indiana High School Basketball teams are now allowed two on court days a week and we take that opportunity to start previewing the upcoming season. That tour around the state began on Wednesday with the Fishers College Combine Day. The main attraction was obviously Top 25 national prospect Jalen Haralson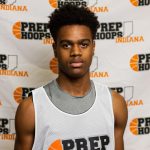 Jalen Haralson 6'6" | PG Fishers | 2025 State IN in the Class of 2025, but the Tigers feature several other future college players that had coaches from all levels in attendance. Ohio State, Auburn, SIU-Edwardsville, UIndy, Anderson, Hanover, Franklin, Marian, Huntington, Indiana Wesleyan, IU-East, and Indiana Tech all took in the action at Fishers High School. Now, let's dive in and get to know a little more about one of the more talented Class 4A teams in the state of Indiana.
Roster Breakdown
Led by head coach Garrett Winegar (35-10 at Fishers) going into his third season, the Tigers have a lot of production to replace from graduation. Nearly 50 points per game is gone and only sophomore guard Jalen Haralson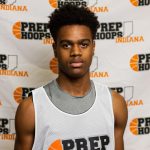 Jalen Haralson 6'6" | PG Fishers | 2025 State IN returns as a major contributor from a year ago. The 6'7″ Top 25 national prospect already holds offers from 11 Division I programs including Auburn, Florida State, Indiana, Michigan, Michigan, Ohio State, and Purdue. Ohio State head coach Chris Holtmann, assistant Jack Owens, and Auburn assistant Steven Pearl were in attendance on Wednesday checking in on the prized recruit. As a freshman, Haralson averaged 16 points per game for Fishers and will undoubtedly be one of the top players in the state as a sophomore.
The other most known commodity for Fishers is junior guard Taden Metzger Taden Metzger 6'3" Fishers | 2024 IN . While he is new to the Tigers program, the 6'2″ sharpshooter averaged a team-leading 15.3 points per game as a sophomore at Marion while shooting 60-136 from beyond the arc. Metzger, who holds an offer from Huntington along with a lot of other college interest, is one of the best pure shooters in the state of Indiana. He will really help to space the floor for Haralson and will benefit from his playmaking ability. Additionally, Fishers received a stroke of good fortune by landing 6'6″ junior forward Keenan Garner after his family relocated from Germany. Garner is a physical, highly skilled wing/forward that will be a major contributor for the Tigers right away. His motor is impressive, he has great strength for his age, and showed the ability to consistently get to the basket off of the dribble. It won't take long for college coaches to start recruiting him heavily.
Other projected major contributors and potential starters include sophomore guard Jonanthony Hall Jonanthony Hall 6'1" | PG Fishers | 2025 State IN and senior center James Stasey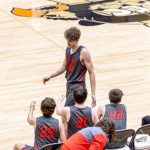 James Stasey 6'9" | C Fishers | 2023 State IN . The 6'2″ Hall is among the very best athletes in the state of Indiana. He is a three-sport star who is excelling on the football field currently for the Tigers and did not participate in Wednesday's workout. However, he is a two-way menace in the backcourt who will handle the ball plenty to relieve some pressure off of Haralson. Hall will be one of the best on-ball defenders in the state and will definitely make a name for himself this season. On the interior, the 6'9″ Stasey is coming off of a great summer that garnered him a lot of small college interest. DIII and NAIA coaches were out in droves to watch him on Wednesday. He is a great athlete for his size and finishes at a high level with both hands around the rim. Expect a breakout senior season for Stasey.
There are a ton of pieces that will round out the rotation for Fishers. In fact, there are likely to be some players who receive very few varsity minutes that would start at a majority of other programs in the state. However, that is simply what happens when you have the depth of young talent currently in the Tigers program. On Wednesday, junior Parker Perdue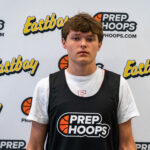 Parker Perdue 6'3" Fishers | 2024 IN played very well. The 6'4″ wing displayed a high basketball IQ, a well-rounded offensive game, and the necessary strength to compete at the 4A level in Indianapolis. He appears to have carved out a major role as a junior. 6'5″ sophomore forward Nathan Baker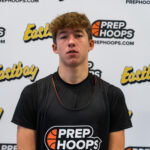 Nathan Baker 6'5" | PF Fishers | 2025 IN is out 4-6 weeks due to injury, but he is another one that I would expect to see as a mainstay in the Tigers rotation. Beyond that, I thought sophomore guard Justin Kirby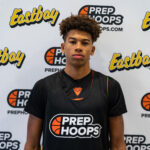 Justin Kirby 6'2" Fishers | 2025 IN had an excellent showing on Wednesday displaying his athleticism and finishing ability up around the rim. Junior guard Carter Jones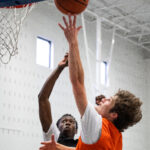 Carter Jones 6'1" Fishers | 2024 IN and senior forward Grant Ables Grant Ables 6'4" | SF Fishers | 2023 IN are two more who will certainly get minutes in the rotation and be solid contributors. Senior wing Aiden Zimmer, sophomore guard Millen McCartney Millen McCartney 6'1" | PG Fishers | 2025 State IN , junior forward and Grant Haworth Grant Haworth 6'4" | PF Fishers | 2024 IN , and senior center Chris Rhoades Chris Rhoades 6'7" | C Fishers | 2023 State IN didn't participate in the workout but all will be vying for rotation spots as well.
Outlook
Earlier in the week I had included Fishers as one of the top five teams in Class 4A that I thought could win a state championship. After seeing them in action on Wednesday I feel even better about that pick. Jalen Haralson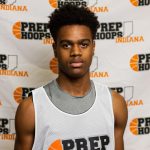 Jalen Haralson 6'6" | PG Fishers | 2025 State IN is a bonafide star that will give them a chance to win every time they step on the floor. The additions of Taden Metzger Taden Metzger 6'3" Fishers | 2024 IN and Keenan Garner are massive as well to take some pressure and attention off of Haralson. He will have more space to play in now with those two surrounding him. Around the basket, James Stasey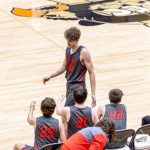 James Stasey 6'9" | C Fishers | 2023 State IN is ready to battle against the best big men in the state and will hold his own.
It is no secret that Sectional 8 is an absolute buzzsaw. It has even taken over Sectional 10 as the toughest field in the state. I love Zionsville heading into this season as well, but as we sit here today give me the Tigers as the favorite to cut down the nets. At that point, I really like their path to Gainbridge Fieldhouse and could see Fishers potentially winning the whole thing. This is a talented group that has all the necessary pieces and a great coaching staff. The sky is the limit for the 2022-2023 Fishers Tigers.