Our Prep Hoops NJ team continues to agree that this current senior class, the 2023s, is one of the deepest that the state has seen in some time. We have a plethora of players at our disposal to write about who are under-recruited, under-the-radar and should be on the eyes of college coaches. Today we look at several more guards who are poised for big senior years.
Matthew Nervi Matthew Nervi 6'1" | PG Scotch Plains-Fanwood | 2023 State NJ | 6'1" | G | Scotch Plains-Fanwood
Nervi drove the bus for SPF last year. He's got a great mind for the game and his understanding of how to be a scorer as a lead guard is impressive. He can get in transition and can also pull up. He runs fast breaks to perfection and has a great head fake. Academic D3s should be all over Nervi, very coachable from what we have seen in person and on film. He had 24 vs Union Catholic and 21 vs Summit as top games last year.
Gregory Jones II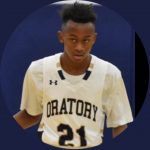 Gregory Jones II 6'0" | PG Oratory Prep | 2023 State NJ | 6'0" | G | Oratory
Jones is a talented guard who can lead the offense and facilitate but can also score as the 2. He gets at the rim and can break down defenders off the dribble. He's got the ability to beat teams from beyond the arc as well and teams have to play airtight defense on him. He had 17 vs Roselle Catholic in the county tournament, hit Scotch Plains for 20 twice and had 21 vs Delbarton in states. He should have the eye of academic D3s in the Northeast and D2s should watch his senior year.
Josh Michigan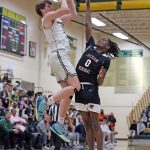 Josh Michigan 6'4" | SG Brick Memorial | 2023 State NJ  | 6'4" | G | Brick Memorial
Michigan, along with Scranton bound big man Luke Braaten and Brian Starrett Brian Starrett 6'2" | PG Brick Memorial | 2023 State NJ let Memorial to an impressive 20 win season last year. He's got range from just about anywhere inside half court if he's left open and his game going at the rim continues to improve. He's got solid ballhandling skills and can break down defenders off the dribble. He hit Toms River South for 32, Middletown North for 28 and Jackson Memorial for 23 as top games. He will make a push for 1,000 points and is an All Shore candidate.
Brian Starrett Brian Starrett 6'2" | PG Brick Memorial | 2023 State NJ  | 6'2″ | G | Brick Memorial
One of the key returners in the backcourt along with Michigan for the Mustangs. He's a multi-faceted player who played a more supportive role in terms of scoring last year but made it all happen by facilitating for Michigan and Braaten. He's a good ballhandler with solid court vision. He contributed on the rebounding end and also showed his ability to move the ball and hoops IQ by running up 160 assists. He had 14 vs Hamilton West in states and also chipped in 13 in a win over SJV.
Augustine McGee Augustine McGee 6'3" | CG Elizabeth | 2023 State NJ | 6'3″ | G | Elizabeth
One of the biggest movers in the Class of 2023 Update which was recently posted. He's a good slasher who can put the ball on the floor and beat defenders to the basket. He's also got the ability to step back further and hit shots. His move to Elizabeth puts him under the microscope. With the graduation losses and transfer to RC of Sebastian Robinson Sebastian Robinson 6'2" | CG Roselle Catholic | 2023 State NJ , the Minutemen need players to step up if they're going to retain the Group IV title–McGee is one of them. He's going to have to be a leader for this team in a completely different manner than he was at Bayonne. The expectations are high in Eastwick every year and Elizazbethans aren't ones to make excuses. Robinson is gone, they will expect someone to simply step right in. McGee showed flashes last year, hitting Snyder for 27, also putting up numbers by going off againstr Union City, Kearny and Newark Collegiate for 18 each night. He'll have to bring the Snyder type performances every night.