Saturday, September 3rd I attended Chad Groth Areacodes Labor Day Invitational at North Canyon HS in Phx, AZ.
He had 14-17U teams and I focused on the 16-17U.
I took a look at over 10 teams and saw many newcomers.
Here were some of the young newcomers:
2025
Jayden Blasczyk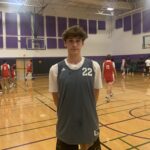 Jayden Blasczyk 6'8" | C Bradshaw Mountain | 2025 AZ Bradshaw Mountain (PVB Varsity 17U) (Pictured)
A rare true 5-man in the class from up north moves well from end to end. He competes hard inside and he will go grab out of area boards and throw himself in the fire. He boxes out like he should and he will score facing up a little and dunk it. He is from an athletic family and he is just scratching the surface.
Preston Ranniker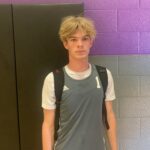 Preston Ranniker 6'2" | SG Bradshaw Mountain | 2025 AZ Bradshaw Mountain (PVB Varsity 17U)
Another Prescott area soph has good size for position already and he has a skill. That would be his shooting. He has a quicker release and it looks good every attempt. He comes with deep range and moves without the ball to find an open spot in the defense. Once he gets stronger and ages, he may do more, but for now he will space the floor for his teammates.
Jamoni Moody Jamoni Moody 6'3" | SF Valley Vista | 2025 AZ Valley Vista (Team Take Off 16)
An athletic wing forward has a lot to like. He has a nice pull-up from mid-range and he seems to work best currently closest to the rim. He has a high motor to rebound and keeps plays alive. He runs the floor and he will defend multiple positions. He fits in Coach Isai's uptempo style.  
Mitchell Boose CG 5'9 AZ Compass Prep
A scoring combo guard has speed and skill. He is a little undersized but he shoots it well and smartly uses the floater to score over the post players. He is tough on the ball defensively with quick hands and feet.
2026
Korean Head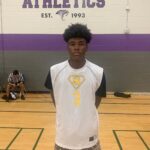 Korean Head 6'0" | CG Sunnyslope | 2026 AZ Sunnyslope (Pinnacle Academy 16U)
A scoring combo guard is a natural scorer from all three levels. He can score it in traffic, he has a polished mid-range pull-up off the dribble and he will hit the three. He shows a strong IQ to facilitate, as he will drive and kick it and plays unselfishly, even though he seems like he can burn passed his defenders most of the time.
Sir Myles Sir Myles 5'9" | PG AZ Compass Prep | 2026 AZ AZ Compass Prep
A strong, fast and very quick scoring point guard. He has a tight handle that is matched with his speed with the ball and he hits tough shots in traffic or he will shoot it from the perimeter. His tighter handle allows him to get to his spots he wants to.