Saturday, September 3rd I attended Chad Groth Areacodes Labor Day Invitational at North Canyon HS in Phx, AZ.
He had 14-17U teams and I focused on the 16-17U.
I took a look at over 10 teams and saw many newcomers.
Here were some of the standouts:
Keon Talgo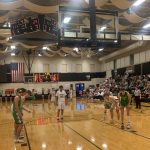 Keon Talgo 6'3" | SF Gilbert Christian | 2024 State AZ Gilbert Christian (AZ Warriors 17U) (Pictured)
A physical scoring wing who can pull-up from mid-range and hit the catch-3. He scores it inside and takes contact well with his thicker frame. He changes speeds well, he shows toughness and plays with a high IQ. He will score inside with counter moves in the lane.
AJ Seumanu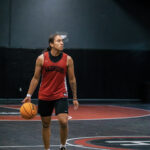 AJ Seumanu 6'2" | SF Mesa | 2024 State AZ Mesa (AZ Warriors 17U)
A skilled, tough and strong forward who plays with a chip on his shoulder.  He can step back from the three and he plays the game with a high IQ and makes plays. He keeps plays alive as he chases rebounds often.
Cameron Holmes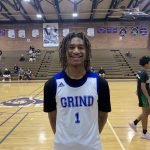 Cameron Holmes 6'5" | SG Millennium | 2026 State AZ MIllennium (AZ Battle 17)
The big talent of the West Side team is Holmes. He handles the ball well for his size and can score from all three levels fairly easily. He likes the deep-3 and the lefty will pull-up from mid-range.
Gabe Pickens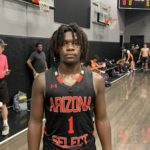 Gabe Pickens 6'0" | PG Hillcrest Prep | 2024 State AZ Millennium (AZ Battle 17)
The heartbeat of the Tigers is definitely Pickens. He is a true leader on both sides of the court. He is a shifty ball handler and is powerful to the rim with defenders draped all over him. He can hit the three and he is working on his pull-up. (He transferred to Hillcrest Prep last week).
Quincy Everson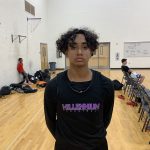 Quincy Everson 6'0" | CG Millennium | 2025 State AZ Millennium (AZ Battle 17)
With a lot of the attention on Pickens and Holmes, it opens things up for others. Step in Everson. He is tough, skilled and smart. He can catch and shoot from the three point line and uses his length on the defensive end.
Donovan Dabney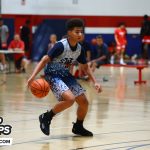 Donovan Dabney 6'1" | PG Higley | 2025 State AZ Higley (365 Swish 17U)
A skilled guard can shoot it from mid to the three point line and make plays. He looks to drive and kick it often to teammates and advance passes smartly. The ball never sticks in his hands and he doesn't over dribble.
Jordan Irving Jordan Irving 6'5" | PF Higley | 2023 State AZ Higley (365 Swish 17U)
A highly athletic power forward can throw it down on the break. He rebounds in and out of his area and the lefty can score it near the cup. Look for him to breakout this season for the Knights.
Nehemiah Williams Nehemiah Williams 6'4" | SF Cactus | 2025 State AZ Cactus (PVB Varsity 17)
A bigger lead guard or point forward type with a thicker build/frame. He gets into the paint often to make a play or score it using his strength and size. He can shoot it from the perimeter but is currently best getting downhill.
Danian Bernardo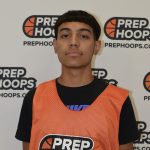 Danian Bernardo 5'10" | PG Bradshaw Mountain | 2025 State AZ Bradshaw Mountain (PVB Varsity 17U)
An old school pure point guard who advance passes and will drive and kick it. He has good quickness to get passed his defenders. You rarely see him take a bad shot and he definitely plays from the neck up. He is the consistent facilitator of the team.