This past weekend, I took a trip to the Ball So Hard Scouting event, Preseason Jam 2K22 and witnessed many high profile teams competing against each other. Covering this event will feature 2 articles, so here is my first page of standout performers!
Jaylen Benard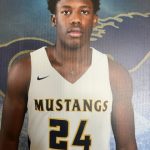 Jaylen Benard 6'3" | CG Cypress Ranch | 2023 State TX – Cypress Ranch High School (2023)
Jaylen was exceptional on Saturday in this tournament, leading his team in two contests averaging double figures in the points column and also being physical on the glass. Benard figures to be the top ball handler for Cy Ranch this year as they look forward to the season and he was also a great source of encouragement for his teammates. Benard finished with 27 points and 7 rebounds in his first game against College Park, while also notching 23 points and 6 rebounds in the contest against Westbury Christian. Benard will be interesting to keep on your radar, especially matched up against other top guards in his district!!
Luke Robbie- Katy Taylor High School (2023)
Luke played a role as a leader for his team in their contests on Saturday, leading his Taylor squad to two huge wins over St Pius X and South Houston. Luke was never afraid to defer to a teammate or to take it upon himself to score the ball when needed, possessing tremendous offensive IQ of the game and knowing how to control the tempo of the game to benefit his team. The part of Luke's game I found to be the most impressive was his ability to excel in the pick and roll, whether as the ballhandler or the receiver. Somehow, he was always able to make the right play and this led to two huge wins on the day. I am excited to watch Robbie play more as the year goes along!!
Eric Woods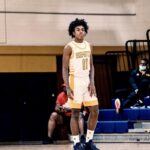 Eric Woods 6'1" | CG Chester W. Nimitz | 2024 State TX – Nimitz High School (2024)
Eric played a huge role in the guard slot for his Nimitz squad this weekend, leading to two close contests against Jordan Gold and Klein Cain. Woods showed his ability to knock down critical shots and also drive and kick the ball when necessary. Eric was also a big presence defensively when needed for his team, not being afraid to be physical with his matchup and averaging 5 to 6 steals throughout the day. He never showed frustration and always kept pushing forward, no matter the deficit. Woods will most likely be one of the two starting guards for his Cougars squad this year and will play a huge role on both sides of the court!!
Misaias Herrera- Katy Jordan High School (2023)
Herrera was a huge piece of the Katy Jordan Gold team this weekend, willing his team to two critical wins against a tough Nimitz squad and an aggressive GPGV National team. Herrera was essential in controlling the pace of the offense and displayed total marksmanship from beyond the arc as well as showing that he has the offensive awareness to know where his teammates are on the floor at all times. Misaias is a tremendous shooter as well as knowing how to blow by his matchup to get to the rim. Herrera also showed great footwork in his on ball defense. He will be critical for his Katy Jordan team this year!!