The class of 2025 in Raleigh and the surrounding areas is teeming with talent. Here is a quick look at some names to keep on your mind as the high school season quickly approaches.
Preston Copeland Preston Copeland 6'7" | C Raleigh Christian Academy | 2025 State NC | PF | 6'8 | Raleigh Christian Academy
Preston, who already sports several offers, is an excellent finisher who finishes around the basket with power. Has the ability to grab a rebound, push it the length of the floor and finish through contact. Uses his long arms and jumping ability to block shots. He is a high-motor player who is also a relentless rebounder. Has good form on his jump shot in the midrange.
Andrew Grimes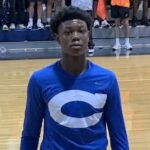 Andrew Grimes 6'7" | C Clayton | 2025 State NC | PF | 6'7 | Clayton High School
Andrew is a high motor forward. Very decisive on the block, where he uses his length and high-level footwork to finish through people or with using his sweet jump hook. He has good form on his jumper with the range to shoot it from the 3-point line. Good rebounder, that has a good understanding of where missed shots will land and then goes to get them.
Cody Dickerson | PG | 6'0 | North Raleigh Christian Academy
Dickerson is a point guard with the ability to touch the paint at will. Not only does he touch the paint, but he also finishes well around the basket. When he is not creating for himself, he uses his ability to penetration ability to create for the teammates around him. Good looking jump shot. He can hit the mid-range and also shoots the three with confidence.
Chance Gladden | SG | 6'2 | Cary Academy
Gladden is a good scorer that can score at all three levels. Has good length and has the ability to be disruptive on defense. He has a good handle which he uses to get to the basket. He uses a variety of finishes and has the ability to contort his body to avoid charges. He is also adept at getting to the paint and kicking out to shooters. He is a good shooter with good range on his jumper.
Cash McSweeney Cash McSweeney 6'3" | PF Cardinal Gibbons | 2025 NC | PF | 6'8 | Cardinal Gibbons High School
Cash is a great name for this young man as he has the ability to "cash" in on jumpers from 3-point range. He is a fantastic big who can excel in both the pick and pop and pick and roll game. He has the ability to take a rebound and push it on the break. Plays with a high motor which is evident when you watch as he attacks the offensive and defensive glass.