On August 30th I attended the Gilbert Fall League at Mesquite Jr High. They have 16 teams with 7 JV and 9 varsity from the East Valley.
Here were the Upperclassmen Standouts from the night:
2023
Shakur Davis Shakur Davis 6'0" | CG McClintock | 2023 State AZ McClintock
A scoring combo guard who can hit the three point shot. He can drive it and kick it better then last year. He has deep range and when he sees the first one go down, he can rattle them off. He has the mid-range pull-up and he should jump up in production. 
Jacoby Brown Jacoby Brown 6'1" | SG McClintock | 2023 State AZ McClintock
A shooting guard who is driving way more then ever before. He is showing he is more then just a spot up shooter. He can still make the deep triple and has ultimate confidence. Stock up!
Devin Blair Devin Blair 6'5" | SF Desert Ridge | 2023 AZ Desert Ridge
A point forward type who has a high feel for the game. He can drive and kick and make a play. He can shoot it from the perimeter with deep range, but preferred to drive it in this contest. He has the runner and can score with his size. My first viewing of Blair and I came away impressed.  
Andrew Peterson Andrew Peterson 6'3" | SF Queen Creek | 2023 State AZ Queen Creek
An offensive wing drives to the rim with toughness as he got stronger in his upper body in the last two years. He doesn't shy away from contact and can score it from the perimeter. He grabs out of area rebounds and makes good decisions with the ball.
Joseph Lafountain Joseph Lafountain 6'4" | PF Queen Creek | 2023 AZ Queen Creek
A thicker face-up four-man can shoot the three and brings toughness inside the paint. He keeps balls alive and will score on a nice touch around the rim with his strong hands.
Braden Polley Braden Polley 6'1" | SG Gilbert Classical  | 2023 AZ Gilbert Classical
A top tier catch and shoot three point shooter. He has some range and he can also put the ball on the deck and get to the basket plus he can also post up. He averaged 10 ppg last year and will be asked to take on more of a workload this season.  
2024
Donovan Beard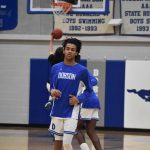 Donovan Beard 6'1" | PG Dobson | 2024 State AZ Dobson (Pictured)
A scoring combo guard has an easy stroke with a quick release from the 3pt line. He makes tough contested shots and he comes with range and a quick trigger. He has a shifty handle to get to the rim and will finish off swooping layups. He will advance pass to a teammate.
Payton Lapping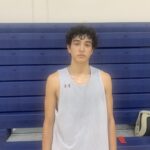 Payton Lapping 6'2" | SG Desert Ridge | 2024 AZ Desert Ridge
A talented wing scores it many ways. He works well inside with a quick second jump and will score on floaters or runners. He can hit the catch-3 with some range and he looks to facilitate. His confidence shooting the ball will keep them in games all year long.  
Taimari Jones Taimari Jones 6'4" | PF McClintock | 2024 State AZ McClintock
A long power forward who is an out of area rebounder and a their back line shot blocker. He is very active inside keeping plays alive and will score it effectively. He runs the court and brings energy for the Chargers.
Jaden Nutter CG 5'10 Dobson JV
A scoring combo guard has a high feel for the game. He is a good passer and thinks the game. He has deep range on his jumper and although he is a little undersized, he can score on floaters. He can stop and pop and drill it from the three.