On August 30th I attended the Gilbert Fall League at Mesquite Jr High. They have 16 teams with 7 JV and 9 varsity from the East Valley.
Here were the Underclassmen Standouts from the night:
2025
Aiden Patterson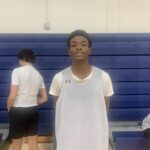 Aiden Patterson 6'1" | SG Desert Ridge | 2025 State AZ Desert Ridge (Pictured)
A newcomer for me is a smooth shooter. He has a high consistent release with deep range. He has confidence and will rattle them off plus he has good length to play the passing lanes. When he catches and shoots it, he has a super quick trigger and he can take it to the basket.
Leyton Steenhard Leyton Steenhard 6'0" | CG Queen Creek | 2025 AZ Queen Creek 
A transfer from Casteel is a scoring combo guard. His best skill is his shooting but he is a sneaky good passer with his left or right hand. He is tough and he can score through contact. He will hit the three and from mid-range.
Gus Cardon PG 5'8 Gilbert
An undersized pure point guard is a slick ball handler. He can take a bump to score once he gets into the paint. He handles ball pressure well and sees the court. He made a few pinpoint passes and scored.
Keri Foster PG 5'9 Dobson
A tough real point guard who drives and kicks it consistently. He has very good speed and uses his stronger upper body to carve out space in the lane. He has advanced court vision and scores it mostly downhill.
2026
Diego Sarabia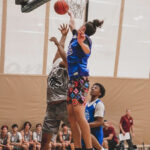 Diego Sarabia 6'6" | PF Queen Creek | 2026 AZ Queen Creek
An incoming freshman is already one of the focal points of their team. He is a thicker kid with big hands and feet and rebounds everything in his area. He works best in the paint but he can step out and hit the three fairly comfortably.
Kyler Frye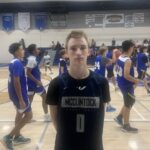 Kyler Frye 5'11" | CG McClintock | 2026 AZ McClintock
A decent sized combo guard has a knack for scoring the ball but also plays with a good sense about him to make the correct play. He can shoot it from the three point line plus is quick enough to get passed his defender and use the floater. He will give a shot fake and drive it.
Tillman Huish Tillman Huish 5'11" | CG Gilbert | 2026 AZ Gilbert
The Tigers have a player every year that possibly can go straight to varsity and contribute off the bench or start their soph year. That could be Huish. He has a high feel for the game and his IQ jumps out at you. He can rise high and elevate on his jumper from mid to the three point line and he is a good passer.
Malachi Hicks PF 6'1 Gilbert
An undersized power forward with a big time motor. He seems to be a step ahead of most trying to grab a board. He can hit the mid-range jumper and straight line drive to the rim. He runs the floor, he can defend in space and he will stay on the court for his effort and energy.