The amount of high level ball handlers we say yesterday was off the charts. A few just had it going last night. Let's take a deep look at some of these prospects.
6'4 PG Tanner Davis Tanner Davis 6'5" | PG Sky View | 2024 UT || Sky View High School || 2024 ||
Tanner really turned it around last night as he was playing with confidence and a burst that was just a different gear. A few different players tried to stay in-front of him and he keeps it simple with straight-line drives and he changed gears to keep defenders off balance. He was finishing at the rim and at times he was gliding to the cup. Tanner has some pop and his explosive plays really make you think that he could nab a high level offer in the future. When he is aggressive he is at his best.
6'0 PG Ace Reiser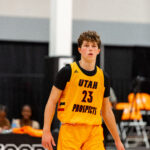 Ace Reiser 6'0" | PG Bingham | 2024 State UT || Alta High School || 2024 ||
Ace was in his bag last night. He had to leave at halftime in his previous appearance so we only got to see some glimpses of that elite play. Last night he was dropping players and he is just a nightmare to guard because he is shifty and quick. Not only was he dropping buckets all over he was making those around him better with his passing and creating ability. Ace was making the right reads on drop offs and kick outs. Another PG that could end up with a D1 offer before his high school career is over.
6'0 PG Yorgio Golesis Yorgio Golesis 6'0" | SG Skyline | 2023 State UT || Skyline High School || 2023 ||
YG was doing what he does and that is impressing everyone. The way that he can snake his way through traffic is impressive. That hang time he has is elite and he is finishing some tough plays. When he is getting in the lane and fiding open players he is one of the more dynamic players at the PG position. Great display last night of everything he can do.
6'2 PG Mekhi Martin Mekhi Martin 6'0" | PG Layton | 2024 State UT || Layton High School || 2024 ||
There is something new in Mekhi's game and that is his shooting ability from deep. Mekhi has been hitting some great shots in rhythm when he his on the ball off the bounce and when the ball is moving and he gets that ball back. With that kind of shooting and pace that he is playing at he is turning some heads with this new style and consistency.
6'3 PG Kaden Ericksen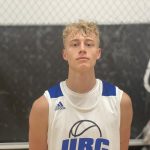 Kaden Ericksen 6'2" | CG Syracuse | 2023 State UT || Syracuse High School || 2023 ||
If Kaden really moves over from off the ball guard to PG he is really going to be special for a team at the next level. You can see that he has the moves and athletic ability to get to the rim. He is good at creating and he can pop and stop on a dime. With more reps at PG he can really go. Played well last night.