Yesterday the 9th annual DMV Elite 80 was held by Marcus Helton and the DMV Elite and gave us an opportunity to get eyes on plenty of prospect from around the area. For this article, I'll look at some quick-hitting notes from the action that I took in throughout the afternoon on court 1.
Malcolm Day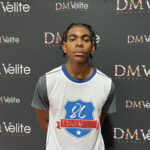 Malcolm Day 6'6" | SF Takoma Academy | 2023 State MD a secret no more
Day was a prospect that we moved into the top 25 of our updated 2023 rankings and he backed us up with his play on Saturday. The 6-foot-6 wing is a knockdown shooter from three especially off the catch, but continues to develop his ability off the bounce attacking wild closeouts. He has the athleticism and length for routine above the rim finishes, can play as a versatile piece on the defensive end and plays with a chip on his shoulder that is showed with toughness. Day received an offer from St. Thomas University (NAIA) and Notre Dame College (DII) following his productive afternoon.
There goes that man again
I feel like every time I attend any game or event that 2025 guard Omarr Smith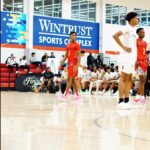 Omarr Smith 6'3" | SG Archbishop Curley | 2025 State MD plays in he forces me to include him in the write-up based off the amount of shots he makes. The 6-foot-4 lefty made the trip from Baltimore and was one of the younger prospects in attendance, but his competition quickly got a dose of just how lethal he can be from deep. Once they started pressing up on him, Smith attacked the rim in straight-line fashion and finished with efficiency. He's another special prospect in the loaded, local 2025 class and his improvements will reflect in a bump with the upcoming update.
Jaden Johnson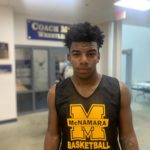 Jaden Johnson 6'0" | PG Bishop McNamara | 2023 State MD working his way back into form
Johnson battled an ankle injury throughout the spring that kept him off the floor for longer than expected and while we saw short spurts throughout his showing at DMV Live in June of his old self, he wasn't in the best physical shape to carry that sort of level for an entire game. Yesterday, Johnson was back to making plays that caught the gym's attention whether it was by hard crossing a defender and setting himself up for step back three's or hard drives to the rim where he'd bully defenders and finish through contact. Johnson's recruitment remains open and he's being courted by a few low major schools. If he can continue to get his body back to what it was, he'll end up being a steal simply based of his willingness to compete.
Cam Ward's upside
Every ranking update brings the difficult decision for the No. 1 spot in the 2025 class. Nyk Lewis (Gonzaga) is by far the most skilled prospect of the group at this given time and will be one of the most highly-regarded floor generals on the East Coach, but it's Ward's size and upside that often gives him the edge in the long-term game. At 6-foot-7, he showed more confidence yesterday and making plays off the dribble. On multiple occasions, he'd rip down a defensive board and lead the break himself where he got to the cup and either drew a foul or finished with either hand.
Quick hitters
2023 Flint Hill wing Nate Pabis
Nate Pabis 6'5" | SF Flint Hill | 2023 State VA looked good putting the ball in the basket yesterday. At 6-foot-5, Pabis has always had a fluid jumper, but now with size, he puts in on the deck and can use his physicality to his advantage to create space for fall aways or strong finishes around the bucket.
I finally got my first look at 2023 Gaithersburg guard Ben Bradford Ben Bradford 6'2" | SG Gaithersburg | 2023 State MD and like what I saw. He's 6-foot-3 and still needs to add size to this frame, but he has a finesse approach offensively that he showcased as he buried mid-range jumpers. He was also willing to get in the mix for offensive rebounds and second-chance scores.
2023 Joseph Baldwin
Joseph Baldwin 6'7" | SF Fairfax Christian | 2023 VA was a guy that caught my eye back in June at DMV Live due to his size and ability at 6-foot-7. In the games that I watched him in he made a several strong takes to the rim. He has pretty good burst with his first step that makes it difficult for others his size to keep in front consistently. He was a familiar face on the glass and did a nice job of keeping his matchup at bay on the defensive end.
2023 Patriot point guard Nasir Coleman was a fun watch in the open floor yesterday. He's a blur when he gets the outlet pass and really does a nice job of getting the ball to the middle of the floor to put pressure on the scattering defense. He had a plenty of good reads and feeds off the live dribble and seems to take a lot of pride in his ability to set up others in this fashion.
2025's who had impact and will be monitored: Gabe D'Alessandro, Isaiah Skinn Isaiah Skinn 5'11" | PG Mt. Zion | 2025 State MD , Nate Ament, David Bumpass David Bumpass 6'3" | SF Friendship Tech | 2025 State MD , Rob Fields Rob Fields 6'7" | PF McDonogh | 2025 State MD , Giovanni Sanford, Shane Pendergrass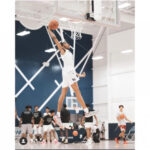 Shane Pendergrass 6'8" | PF Gwynn Park | 2025 State MD , Omari Witherspoon
Omari Witherspoon 6'4" | CG Archbishop Carroll | 2025 State MD ,