A lot of solid prospects emerging and here is a short list of a few of them that have shown some grit and skill.
#41 PHU Easton Duft Easton Duft 5'9" | PG Fremont | 2025 State UT || Fremont High School || 2025 ||
Easton is a tough smaller guard who really uses that IQ and knowledge of the game to help himself out at both ends of the floor. Really like the way he battles when bigger players try to take him into the post. He works hard and stays active and never gives in. On the ball pressure is good as he moves his feet well. On offense he shoots well and he is a great PG. A lot of positive aspects to his game that will only get better in time.
#42 PHU Chance Dastrup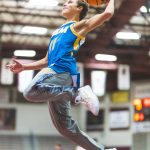 Chance Dastrup 5'9" | PG Orem | 2025 State UT || Orem High School || 2025 ||
Chance is a solid guard that can be on the ball as he is a player that runs a good pick n' roll and shoots lights out out of it but he also makes great reads and dishes the ball on the money. Nice handle and some wiggle and quickness. Shoots the ball well and when he is open on the perimeter he is a big time threat.
#52 PHU Owen Odom Owen Odom 6'0" | CG Green Canyon | 2025 State UT || Green Canyon High School || 2025 ||
Sneaky athletic as he has some bounce to his game. He is still developing in many ways which really gives him a high ceiling. He competes and he is just an all-around talented player that rebounds and tracks down loose balls. He hustles and he makes winning plays. Good shot that he displays from the outside and he attacks the rim well.
#74 PHU Symon Su'a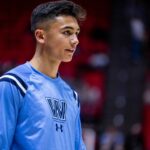 Symon Su'a 6'1" | PG Westlake | 2025 State UT || Westlake High School || 2025 ||
This is a player we will keep a close eye on as he has been showing a ot of skill and growth in his game in the past few months. Really like that ability to pass and find others with that elite vision but also the knowhow to know when to attack and not defer. Smart player with skill attacking, scoring and creating. Development and time at the varsity level will allow him to continue to expand and grow his game.
#96 PHU Dawson Low Dawson Low 5'10" | CG Ridgeline | 2025 State UT || Ridgeline High School || 2025 ||
It is great to see Dawson battle back and make his way back to the floor. The IQ is important and in time he will get a lot of that skill back and in the meantime he is getting some good looks up and drives and pull-ups. Really like that he keeps it simple. Stay tuned because the journey is not over.