Here is a list of must watch players in the Class of 2025 rankings. These prospects have game and they will be a group of must watch players as they look to stock rise this Fall.
#32 PHU Donovan Averitte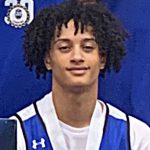 Donovan Averitte 6'4" | CG Bingham | 2025 State UT || Bingham High School || 2025 ||
Hard working off the ball guard that will likely be playing the 3 at the high school level. He has solid moves to the basket. With more time on the floor he could really continue to transform his game and reach that level of consistency he is looking for. Good size and footwork as he continues to develop. Will see the floor at the varsity level at Bingham.
#38 PHU Longar Alor Longar Alor 6'6" | SF Judge Memorial | 2025 State UT || Judge Memorial Catholic || 2025 ||
Great prospect with size. He is one of those players you need to see in person. He is bigger and stronger that you might think. He has a good feel for the game in the paint and mid-range and he seems to continue to expand that game in the perimeter. Good next level small school prospect.
#42 PHU Bryton Valdes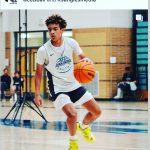 Bryton Valdes 5'10" | PG Juan Diego Catholic | 2025 State UT || Juan Diego Catholic || 2025 ||
Sleeper smart and high IQ PG that can really get the tempo going. Not only is he quick he can get downhill in a hurry. He keeps that vision up and he gets rid of the ball quickly up the floor. Bryton has that playmaking ability and he does a good job off the ball scoring as well. Nice shot and he can get it going quickly on catch and rips. Will be a big time PG at the varsity level this season.
#43 PHU Easton Duft Easton Duft 5'9" | PG Fremont | 2025 State UT || Fremont High School || 2025 ||
Do not be fooled by his stature this kid is a killer. Not only will he drop open looks from deep he is a solid off the bounce PG that can get by defenders and create for others. He is impressive at the defensive end on the ball and off the ball because h battles. Really impressed with his overall game. He is that player that is hard to get off the court because he has a motor and plays hard on both ends of the floor.
#45 PHU Symon Sua || Westlake High School || 2025 ||
A really good off the radar prospect that we need to get to know. Strong lead guard that has elite vision. He drops dimes and make it easier for his teammates to score. Off the ball he can break players off the dribble and has good finishing ability.