While the class of 2023 saw some high level talent leave its rankings and migrate to other states, there were a host of good players who were added as well. The guard positions in the Boot are littered with talent and that was affirmed with the players who were added. In this Prep Hoops Louisiana exclusive, we will take a look at some of the additions to the rankings. They will be players who should have some say so when it comes to team success and individual awards in Louisiana this coming season.
Dorian Booker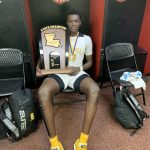 Dorian Booker 6'10" | PF Scotlandville | 2023 State LA (6'10" / Scotlandville)
The big man from south Baton Rouge is one of the most improved players in the state. He has not played as long as some others but he has been a quick study. His ability to carve out space and rebound makes him very effective. Booker has a baseline hook that is hard to stop as well. He is definitely a top 10 player and one of the most high profile adds to the rankings.
Brandon Collins Brandon Collins 5'11" | PG Pineville | 2023 State LA (5'10" / Pineville)
Collins has a point guard build but loves to let the ball fly from three. He is good at attacking his defender with the dribble causing the defenders to back off. Once that happens, he has enough room to get his shot off from deep. Collins is also a good passer in transition. His versatility is a reason he is an addition to the rankings.
Kialen Phillips Kialen Phillips 6'2" | CG Breaux Bridge | 2023 State LA (6'5″ / Breaux Bridge)
Phillips is one of the more dynamic players who was added to the rankings. He is a player who can get down hill with the best of them and he has an array of finishes around the rim. Phillips is also an athletic defender who is great at blocking shots and reading passing lanes. He is a new addition that may also end up being one of the better recruits in the class.
Ajay Tew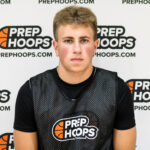 Ajay Tew 5'11" | PG Jonesboro Hodge | 2023 State LA (5'11" / Jonesboro-Hodge)
Tew is one of the better point guards in north Louisiana. He can hurt a defense by passing first and by his shooting prowess from the perimeter. Tew is nifty with the dribble and uses it well to get in the paint and make plays for others. When it comes to a new addition that can hurt defenses in multiple ways, Tew is the man for the job.
John Carmody Jr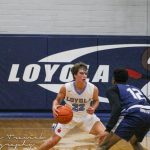 John Carmody Jr 6'3" | CG Loyola College Preparatory | 2023 State LA (6'3″ / Loyola)
Carmody is a new addition that fits the prototype of a combo guard. He has played point guard since his middle school days and it is like second nature to him. Carmody also has a very good outside shot which makes him very difficult to guard. His offensive repertoire and his size make him a guard who is very attractive for the next level.
Jaylen Pazon Jaylen Pazon 6'4" | CG Mandeville | 2023 State LA (6'4″ / Mandeville)
This lefty guard played very well during the evaluation period of the summer. He was impressive because he played lead guard in a lot of cases and displayed the ability to lead a team. Pazon can also drive either direction and shoot the three. He is a new addition that is a murderous cover for other guards.
Knyles Randall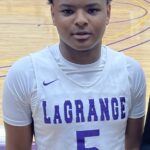 Knyles Randall 6'0" | SG LaGrange | 2023 State LA (6'0″ / LaGrange)
Randall is a small guard who can disrupt an offense when given an opportunity. He is very good at open court steals and converting them into buckets. Randall is also good at getting by his initial defender using his low center of gravity. He is a player who can finish with either hand as well making him one of the better two way additions to the rankings.
There were new additions from all over the state in this latest ranking update. From the top ten to the end of the list, these new additions show the talent and versatility that Louisiana has.