This weekend the Graduates over Guns program in partnership with Xposure Runs hosted a Balling over Bullets Open Run. The run was set up to keep teens from 7th grade through 12th grade off the streets and in the gym. Most of the players in attendance never get the opportunity to play at events to be evaluated. So I made the stop to check out some of the players most haven't seen or heard of yet. Here are the top players from the event.
Jayden Preston 6'0 (TF South) 2025
Preston is a smooth athletic guard who can score in the lane while taking a bump. He made a few shots from the three but was more effective when slashing. He plays at the right pace and never seemed rattled. Preston was one of the few who played in more than 2 games. He was also one of the MVP recipients of the day.
Jahlil Love 6'1 (Manley) 2024
Jahlil was in his bag at the open run as he made several threes throughout the day. He is a high energy player who is active on defense and disrupts long passes with his length especially on transition plays. Love has a solid handle but is more of an off ball scoring threat in the half court.
Dirk Nickson 5'10 (Orr) 2023
Maybe the best on ball defender in the gym. Dirk jammed many players at the half court line getting steals and making plays on the other end. Nickson is elusive off the dribble as he finds ways to get in the paint and get good elevation on his mid-range shot. Dirk is a steady guard who can play at the next level.
D'nomyar (Nomi) Grant 6'1 (Julian) 2024
Grant is a shifty ball handler who is a scoring guard right now. He made several shots from three but is a better slasher when he has space. Nomi is an energy player who has knack for getting lose rebounds if you don't put a body on him.
Damion Porter Jr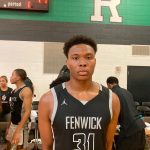 Damion Porter Jr 6'3" | SG Fenwick | 2025 State IL Jr 6'4 (Fenwick) 2025
Porter is a skilled wing with a good frame and size at his age. He is a physical presence in the lane when he has touches around the rim. He even showed the ability to finish with either hand at times. Porter showed his versatility as well hitting some contested base line jump shots and even knocked a three down. His play at the event earned him one of the MVP spots for the day.
Josh Andrews 6'1 (Englewood Excel) 2023
Andrews was one of the eye-opening talents that caught people's eye early. He just had a continuous motor that kept him involved with most plays. He has good ball handling skills and can hit the shots from all three levels. Josh best skill was his will to not shy away from contact when attacking downhill. He made several tough shots through taller defenders. Some junior colleges that love tough players should look into him.
Larry Carthans 6'7 (Julian) 2023
Larry is very long and athletic at his size. He looked good in transition snatching rebounds and pushing the pace the length of the floor often as the tallest player on the court. Carthans has a solid set shot that went in a few times. He has the length and foot speed to guard 1 – 5 positions. With some added strength Larry can be a productive college prospect.
Jaylen Ingram 6'4 (Hilcrest) 2025
Ingram has a slow start but he showed why many people talked about his upside. Jaylen made some nice moves while driving to the rim. He looked very nimble on his feet while attacking through traffic. Ingram proved he can play inside and out. He made plenty of shots as he got more comfortable.  Jalen has good instincts for his grade and will no doubt be a future prospect to track in the future. 
Lorenzo Aquino 6'1 (Lane Tech) 2023
Aquino is a solid lead guard that sees the floor well and isn't rushed to make decisions no matter who's guarding him. Lorenzo was very steady hitting a few mid-range shots but did most of his work setting up his teammates throughout the day. I like what Aquino does as a player. He is the steady guard to get the ball to when everything else is chaotic. Small schools should check him out.
Charles Barnes Jr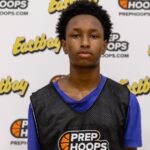 Charles Barnes Jr 6'4" | SF DeLaSalle Institute | 2026 IL 6'4 (De La Salle) 2026
Barnes is one of the players I highlighted at the freshman combine who came to showcase another aspect of his game. Charles can light it up from deep. In his only game he made several three pointers from different spots. Most of them didn't touch the rim. He has proven to be a solid rebounder. Still hasn't played one high school game yet, but I look forward to seeing him play this upcoming season.
Trevion Shateen 6'5 (Carver) 2024
Shateen is a hard nosed player that plays with tons of energy and aggression. He led the day with several block shots most of them chase down rejections. Trevion has a knack of reading the ball off the rim and going after it, he uses this very well on the offensive side as he did most of his scoring off second chance points. Shateen is by far one of the better offensive rebounders in the state and once he figures out his offensive game more he will be a good college prospect.