Prep Hoops Missouri takes a look at the top Class of 2025 and 2026 guards/wings from last Saturday's first day of action at the Arsenal Hoops Fall League in Wentzville.
Evan Simon Evan Simon 6'0" | PG Kirkwood | 2025 State MO (Kirkwood): The 6'0″ point guard is a talented playmaker and scoring threat who plays with a lot of swag and confidence with the ball in his hands. He scored 27 points in his first game and he was very efficient and entertaining. He spent the first five minutes of the game facilitating and getting teammates involved. When he asserted himself on offense, he was getting buckets from all three levels. He was hitting 3-pointers, creating shots off the dribble and getting into the lane. He was also dropping off some impressive dimes.
Andrew Moore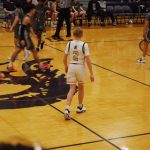 Andrew Moore 5'11" | PG Troy | 2025 State MO (Troy): The 6'0 point guard is smooth and under control in all of his movements. He had some nice escape moves off the dribble to free himself for a jumper. His 3-point shot off the catch was pure. He facilitated offense well and excelled at different tempos.
Noah Cash Barnes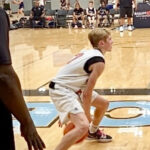 Noah Cash Barnes 5'10" | PG Windsor | 2025 State MO (Windsor): The 5'10" point guard was very impressive in his opening game with 19 points. He displayed some flashy ball handling and passing to go along with his ability to get buckets. He could create his own shot and get a bucket at all three levels. His court vision was on point as he dropped some nice dimes to open teammates. He also hit some big shots in a clutch game that went into overtime. He also played some solid on-ball defense and took a charge in the lane.
Jacob Aydelott (Timberland): A 6'1″ shooting guard who was in attack mode from the beginning of the game to the very end, when he scored on a driving layup to win the game at the buzzer. He was a good finisher around the basket, whether he was posting up smaller guards or getting downhill on the drive. He was very aggressive and fearless as he constantly probed the defense for openings to attack the basket.
Payden Cheng (Fort Zumwalt West): A 5'8 2026 point guard who was fearless in how he competed against the older kids. He was looking to get downhill on the drive and he scored amongst the taller players inside. He was also hitting the 3-pointer. He was also scrapping for loose balls with his hustle.
Jack Edgerton Jack Edgerton 6'2" | SG Ladue | 2025 State MO (Ladue): A 6'2 guard who was aggressive and played with a high motor. He had a nice cross over move to get into the lane and he finished well in traffic. He was also effective on the offensive boards with a quick second jump
Jack Prunty Jack Prunty 6'1" | CG Marquette | 2025 MO (Marquette): A 6'1 guard who attacked the basket well and hit shots in the lane from a variety of angles. He also delivered some nifty passes while on the move. He also knocked down a couple of 3-pointers off the catch.
Cole Kirkpatrick (Chaminade): A 5'10" guard who scored 15 points in his first game while playing a very solid offensive game. He scored on some impressive drives to the basket as he made a nice scoop shot in traffic while also going high off the glass for a bucket on a runner. He also shot it well from long distance with three 3-pointers. He picked his spots on offense and was very good when he asserted himself.
Luke Roberts (St. Dominic): A 5'7 2026 guard who has an impressive shooting stroke from 3-point range. On his first touch, he knocked down a high-arching triple from about 25 feet. He played with a lot of poise for a youngster.
Deadrick Forrest (Warrenton): A 5'7 point guard with good speed and quickness. He was getting into the lane with his dribble penetration, which led to a bucket or a nifty drop off for an assist. The youngster was confident and fearless.