Prep Hoops Missouri takes a look at the top Class of 2024 standouts from last Saturday's first day of action from the Arsenal Hoops Fall League in Wentzville.
Donovan West Donovan West 6'1" | PG Fort Zumwalt East | 2024 State MO (Fort Zumwalt East): The 6'0″ combo guard is an impressive two-way performer who scored 20 points in his team's opening victory. He is an excellent athlete who grabbed his share of rebounds from the guard position. He also hustled for a couple of nice blocked shots at the rim. He has a quick first step to the basket as he scored a several tough takes in the lane. He also did a nice job hitting the step-back jumper from 3-point range.
Ashton Matthews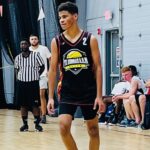 Ashton Matthews 5'10" | PG Francis Howell Central | 2024 State MO (Francis Howell Central): The 5'10" point guard displayed his good quickness and high basketball IQ throughout the day. He has excellent court vision, which he showcased with several nifty passes in transition or in the half court offense. He was also very assertive in attacking the basket on offense as he scored most of his points on penetrating drives. He keeps the tempo moving fast when he has the ball in his hands.
Nolan Frey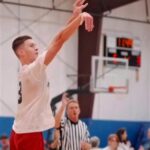 Nolan Frey 6'6" | SF Liberty Wentzville | 2024 MO (Wentzville Liberty): The 6'5″ small forward was one of the more impressive newcomers that I saw on Saturday. He has good length, athleticism and a versatile skill set. He displayed a feathery shooting touch from 3-point range as he excelled in the pick and pop. He had some nice takes to the basket and he crashed the offensive boards hard for putbacks in the second half. He was one of the big revelations from watching the first day of action.
Justin Shields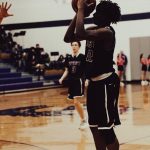 Justin Shields 5'10" | PG St Charles West Highschool | 2024 MO (St. Charles West): The 5'10" combo guard was very impressive in the final game of the day in leading his team to a victory. He got things done with his speed, athleticism and a motor that did not stop. He was quick to the basket with a nice burst and he finished well at the rim. He was an excellent rebounder and defender who was active in the passing lanes and providing good on-ball pressure.
Alex Vidal (Clayton): A thick-bodied point guard with a high basketball IQ and a very good change of pace game. He had a nice hesitation dribble in the open court that enabled him to drop off defenders on the way to the basket. He distributes the ball well and he's capable of hitting an open perimeter shot.
Brenton Shirk (Windsor): A 6'0″ point guard who scored 22 points in his opening game. He was attacking the basket regularly and scoring through contact very effectively. He had a very nice spin move in the lane which was his go-to move to get a bucket. His constant motion without the ball also led to a few backdoor layups. He also knocked down a couple of 3-pointers.
Carter Ashby Carter Ashby 5'11" | PG Wentzville Liberty | 2024 State MO (Wentzville Liberty): A 5'11" guard who displayed a nice shooting stroke from 3-point range. He did a very good job of playing off of his teammates with his constant movement and ability to find the right spots. He was very effective on offense without trying to force the issue.
Eron Pordos (Fort Zumwalt South): An athletic 6'1″ wing guard who was one of the most active players that I watched during the day. He seemed to be all over the place with his athleticism and high motor. He was a big factor on the offensive boards and he was constantly slashing to the basket on offense. His constant effort enabled him to impact play at both ends of the court.
James Tweedie James Tweedie 6'4" | SG Francis Howell Central | 2024 MO (Francis Howell Central): A 6'4″ forward with good length and mobility. He could get to the basket with a long and loping stride that covers a lot of space. He was hitting the 3-pointer off the catch plus he had a nice baseline jumper off the bounce.