The 2025 rankings update is finally here with less than 10 days left in September. Prospects rose their stocks in a big way, with some players taking big jumps up the board. Here are the top stock-risers from the 2025 rankings update.
Myles Blackley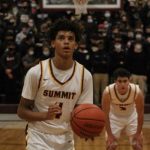 Myles Blackley 6'3" | SG Summit | 2025 State NJ , 6'3 SG Summit
Blackley took a big jump up in the rankings as he moved up 20 spots. The lanky 6'3 guard shoots the ball with confidence from behind the arc and can shoot either off the catch or bounce. Blackley can also get to the rim from the perimeter as he has a nice handle and can finish around the basket. He moves well without the ball in his hands and uses his athleticism to make plays on defense. Blackley is beginning to break out and will be one to watch in Union County this season.
Asher Bradley Asher Bradley 5'11" | PG Oratory Prep | 2025 State NJ , 5'11 PG Oratory Prep
Bradley tied Blackley with the biggest jump in the update as he also moved up 20 spots. The 5'11 lead guard has a nice handle, which he uses to get by his defender and finish around the basket. Bradley has a good touch on his floater and can make opponents pay for giving him space on the perimeter. He is a solid rebounder for a guard his size and gets his teammates involved in the half court. Bradley's ability to run the offense is something that will help his stock in a big way.
Ron Richardson Ron Richardson 6'4" | SF Ocean Township | 2025 State NJ , 6'4 SF Ocean Township
Richardson had a strong summer, which led to him moving up 15 spots in the rankings. The 6'4 forward is unafraid of mixing it up down low as he knows how to get position down low and finish through contact. Richardson can also play on the perimeter as he can put the ball on the floor and knock down jumpers from behind the arc. He fights for rebounds on both ends of the floor and is an underrated passer. Richardson is a physical forward prospect who has the potential to breakout in 2022-23.
Everett Barnes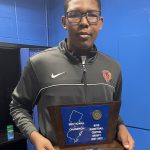 Everett Barnes 6'8" | C Burlington City | 2025 State NJ , 6'8 C Burlington City
Barnes moved up 13 spots in the update and has the potential to move up even further. The 6'8 post has good hands as he rarely drops passes that come his way. Barnes has a soft touch around the basket and a nice release on his jumper. He is tough to box out on both ends of the floor and uses his length to influence shots on the defensive end. Barnes is just starting to scratch the surface of his potential as he is a post prospect to watch in the 2025 class.
Alex Grospe Alex Grospe 5'9" | PG South River | 2025 State NJ , 5'9 PG South River
Grospe jumped up nine spots in the update as he made plays all summer with the NJ Bulldogs. The 5'9 floor general plays with poise with the ball in his hands as he is not rattled by on-ball pressure and threads passes to teammates in the half court. Grospe uses his handle to blow by his defender and is unafraid of taking big shots in clutch situations. He works hard on the defensive end and is an underrated rebounder. Grospe is a true point guard prospect who should run South River's offense smoothly in 2022-23.
Other Prospects to Watch:
AJ Altobelli AJ Altobelli 5'11" | PG Union Catholic | 2025 State NJ , 5'11 PG Union Catholic
Kaleb Johnson Kaleb Johnson 6'0" | CG Union City | 2025 State NJ , 6'0 CG Union City
Destine Evans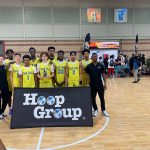 Destine Evans 6'6" | SF Pennington | 2025 State NJ , 6'6 SF Pennington
Luke Kreitz Luke Kreitz 6'0" | PG Ridge | 2025 State NJ , 6'0 PG Ridge
Shawn Spencer Shawn Spencer 6'2" | SG Bergen Catholic | 2025 State NJ , 6'2 SG Bergen Catholic