The 2023 class got a little bit smaller as Notre Dame forward Stesher Methelier Stesher Methelier 6'7" | PF Notre Dame | 2023 State NJ committed to Army early Friday morning. Mercer County is still filled with available talent that can make an impact at the next level. Here are the top available 2023 Mercer County prospects.
Symeon Efstathiou Symeon Efstathiou 6'9" | PF Hun | 2023 State NJ , 6'9 PF Hun
Efstathiou is an intriguing prospect to watch on the interior as he affects the game in a number of ways. The 6'9 forward knows how to get position down low and has a nice touch around the basket. Efstathiou is comfortable playing on the perimeter as he can put the ball on the floor and knock down open jumpers behind the arc. He is an underrated passer and fights for rebounds on both ends of the floor. Efstathiou is a skilled forward prospect whose ability to play inside and out will help his stock in a big way.
Hampton Sanders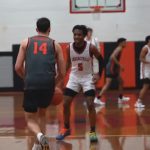 Hampton Sanders 6'0" | PG Lawrenceville | 2023 State NJ , 6'0 PG Lawrenceville
Sanders will run the show for Lawrenceville this season, which will help his stock in a big way. The 6'0 guard has a good handle, which he uses to blow by his defender and finish around the rim. Sanders does not get rattled by on-ball pressure and knows how to get his teammates involved in the half court. He has a nice release on his jumper and is a tough on-ball defender. Sanders is a gritty floor general whose ability to run the offense smoothly will help Lawrenceville and his stock this season.
Corey Miller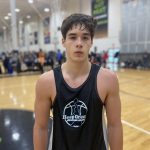 Corey Miller 6'1" | PG Pennington | 2023 State NJ , 6'1 PG Pennington
Miller is a tough lead guard prospect who should put his game on display this season. The 6'1 lefty attacks the basket with a purpose as he has a good handle and can finish through contact. Miller has a nice touch on his floater and rarely forces shot in the half court. He is a good rebounder for a guard and is an underrated defender. Miller's ability to get to the basket and finish is something that will help Pennington in 2022-23.
Erik Oliver-Bush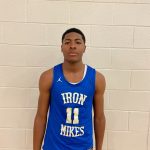 Erik Oliver-Bush 6'4" | SG Trenton Catholic | 2023 State NJ , 6'4 SG Trenton Catholic
Oliver-Bush is a prospect to track in 2022-23 as he impacts the game in a variety of ways. The 6'4 wing is a good defender as he can defend multiple positions and uses his length to make plays. Oliver-Bush finishes strong above the rim and doesn't mind contact in the paint. He has a nice release on his jumper and gets to his spot on the floor. Oliver-Bush is a versatile wing prospect whose ability to make plays at both ends of the floor will help the Iron Mikes in a big way.
Antwan Bridgett Antwan Bridgett 5'9" | PG Trenton | 2023 State NJ , 5'9 PG Trenton
Bridgett has been a steady force for the Tornadoes over the past two seasons and it should continue in 2022-23. The 5'9 guard has a tight handle and a lightning quick first step, which he uses to get into the paint and finish around the rim. Bridgett has a smooth shooting stroke and only needs a tiny bit of space to get his jumper off. He makes flashy passes and uses his quick hands to get deflections on defense. Bridgett is a sharpshooting floor general who should have a big senior season for Trenton.
Other Prospects to Watch:
Nyle Coleman Nyle Coleman 5'10" | PG Peddie | 2023 State NJ , 5'10 PG Peddie
Davontay Hutson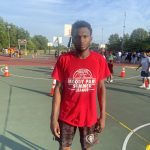 Davontay Hutson 6'2" | SG Trenton | 2023 State NJ , 6'2 W Trenton
Keenan Reiss Keenan Reiss 6'1" | SG Hightstown | 2023 State NJ , 6'1 SG Heightstown
Raja Coleman Raja Coleman 5'9" | PG Peddie | 2023 State NJ , 5'10 PG Peddie
Ethan Gross Ethan Gross 6'7" | PF Hun School of Princeton | 2023 State NJ , 6'7 PF Hun
Jacob Beccles Jacob Beccles 6'3" | CG Constitution | 2022 State PA , 6'4 SG Lawrenceville