The Will Barton Elite Camp took place this weekend at The SEED School of Maryland. In the 10th anniversary of the event there was no shortage of talent that came as far as Canada to compete. There weren't many 2025s that were included in the camp, but we'll still take a look a the ones who participated and stood out.
Tyler Jackson
Tyler Jackson 6'2" | CG St. Frances | 2025 State MD | St. Frances/Team Thrill
Jackson continues to make believers out of the scouts/analysts who are just experiencing the first time seeing him that he is undoubtedly a high major prospect. Not only was he one of the best 2025s, but he looked extremely comfortable matching up against the 2023s and 2024s. His mature ability to create shots for himself make him a handful in quick isolation situations and while he can score buckets in bunches, he isn't a tunnel vision type of guy. Jackson scraps on the defensive end and looks to prove his worth any time he laces up.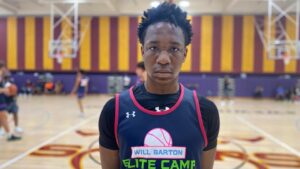 Efeosu Oliogu | United Scholastics Academy/Canada Elite
Oliogu is one of the most athletic rising sophomores I've come across since becoming a scout. You add the fact that he has great size at 6'7, a strong frame and a competitive mindset and what you have is a gem who will be recruited heavily among power five programs for years to come. He was a highlight reel in the open floor and didn't hesitate to try and punch it on defenders when small driving lanes presented themselves in a half-court setting. His shooting form still needs work, but he did hit a few triples throughout the weekend. I also liked Oliogu's approach when it came to rebounding out of his area and contesting shots at the rim.
Omarr Smith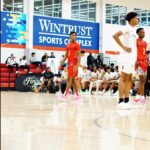 Omarr Smith 6'3" | SG Archbishop Curley | 2025 State MD | Curley/Team Thrill
Smith did what he does best and that was tee off from deep. The 6'3 lefty is more comfortable playing against high-level competition the more that I see him and when a shooter has the ultimate confidence, it's a recipe for success. The coaching staff at the event pushed Smith to let it fly seemingly every time he touched it and while most underclassmen would've looked to take advantage of those orders, Smith is cognizant on the right basketball play and will look to make the extra pass as the defense scramble to get a contest on him.