Last month's FIBA World Cup hosted six blue-chip prospects that play high school ball in Florida. The US won another gold medal, adding to the trophy cases of four prospects. Canada placed ninth, giving two prospects a chance to sharpen their craft against the best international players in their age group. I break down their games and impacts below.
Cooper Flagg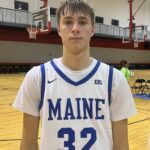 Cooper
Flagg
6'7" | SF
Montverde Academy | 2025
FL
Flagg is a beast. He's 6'8 with big-time athleticism and a high motor. Solid ball skills, defensive tenacity, and offensive upside cemented Flagg as one of the best prospects in the field despite being 15 years old. He was second in blocks, third in rebounds, and 5 points away from being 1 of 3 players to average a double-double. Flagg's ability to affect both sides of the ball, run the floor, and impact the game without having his number called is huge. Montverde usually plays their sophomores sparingly, but Flagg may be too good to keep in a reserve role.
Asa Newell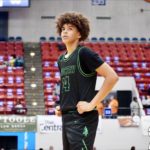 Asa
Newell
6'8" | PF
Choctaw | 2024
State
FL
Playing more of a reserve role, Newell flashed the shotmaking and rebounding that's shot him up to high major status. On limited shot attempts and playing under 10 minutes a game, he was just one field goal away from shooting 50-40-90. His ability to stretch the floor and grab boards will be huge for Montverde.
Karter Knox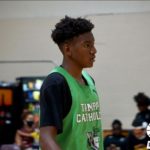 Karter
Knox
6'6" | SG
Tampa Catholic | 2024
State
FL
Knox showed two sides of his game throughout the tournament. It was all about the physical tools, motor, and athleticism during pool play. He crashed the boards on both ends, finished strong at the hole, and played with a menacing competitive edge. His ability to run the floor and score above the rim in transition was on full display. When the ball was in his hands, he created shots for himself. He is quick off the dribble and uses his strength and size to score out of the post.
Mikkel Tyne
Mikkel
Tyne
5'10" | PG
Montverde | 2023
State
FL
Tyne didn't recreate his U16 success as a deeper backcourt, more athletic defenders, and poor shooting hampered his play. Even with elite quickness, the guards in his pool made it hard for him on both ends. Passing and big games against Argentina and Spain were his tournament highlights. Averaging 20 points and three assists against two of the top youth teams in their respective hemispheres reminds me more of the player I saw last summer. Considering who will be part of Montverde's revamped roster, the three-point shooting and pick and roll passing will be a perfect fit.
Olivier Rioux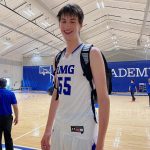 Olivier
Rioux
7'5" | C
IMG Blue | 2024
State
FL
Rioux has the physical tools to match up with true centers. You can't teach 7'6 and incredible length, but it can only get you so far. That said, he did average a shade under two blocks a game playing 13 minutes a night. Unlocking his mobility and increasing his athleticism will do wonders for him. He's a 2024 prospect, so there's time to develop those before he makes his college decision. His touch and ability to read the game looked much improved during the tournament. Considering the competition he faced in Spain, I'm excited to see how that translates in his second varsity season with IMG.
Sean Stewart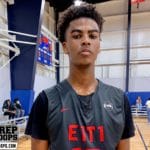 Sean
Stewart
6'8" | PF
Windermere | 2023
State
#

38
Nation
FL
Athleticism and motor make Stewart one of the most impactful rising seniors in the nation. He swatted shots of the best international prospects in his age group. Stewart rebounded at a high level despite not being the tallest player in the frontcourt. He scored above the rim with few able to challenge him because he gets off the floor so quickly. A college-ready physique helped him defend bigs, and agile feet helped him contain perimeter players. The Duke commit will be an early favorite for Florida's player of the year.