Elite prospects from southeastern Pennsylvania (and beyond) continue the annual summer ritual of announcing they are transferring high schools. At Prephoops.com we continue to do our best to track all the player movements and pass that information on to our readers.
Below is the nineth installment in our Transfer Watch 2022 series. In this edition of the Transfer Watch, you will notice that with the start of the 2022-23 academic year just weeks away, two major DI prospects are departing Pennsylvania for schools in other states.
Christian Durham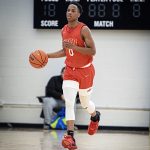 Christian Durham 6'4" | SG Paul VI | 2024 PA – 6'5″ / Junior / Archbishop Ryan / Team Final Red / Wing: Last season at Paul VI in New Jersey, Durham averaged 20.8 pp. and dropped a season high 33 points on two separate occasions. He made a name for himself here in Pennsylvania during the July 2022 circuit with his ability to score at all three levels. Durham uses his high percentage 3-point shooting (41 made threes in 2021-22) to set up his dribble drive game. When he penetrates the paint, Durham can play through contact and score the rock at the rim with either hand. Or he can use a jump stop and then knock home an 8–10-foot jumper.
Julian Gabbidon – 6'3″ / Post Grad / Hillcrest Prep (AZ) / York Ballers / Combo Guard: Gabbidon is an extremely athletic and highly versatile player who makes positive contributions in every facet of the game. He excels at scoring off the dribble drive in transition. In the half court. his jump shot is effective from the mid-range out to the arc. He can create his own space for a shot or come off pick action. As a bonus to all these scoring skills Gabbidon is a willing passer, owns a high basketball IQ and is plus defender. During his senior season at Trinity HS Gabbidon averaged 17.5 ppg.; 6.8 rpg. and 3 spg. After the 2021-22 season he was chosen as the mid-Penn Capital division POY as well as an All-Area selection.
Ben Rill Ben Rill 6'8" | SG Central York | 2025 State PA – 6'9″ / Sophomore / Central York / York Ballers / Power Forward: The former Westtown School reserve had a monster July grassroots circuit playing for the York Ballers and he will look to continue that success at a new school. This summer Rill (pic above) was a No. 1 / No. 2 offensive option for YB, and the versatile lefty proved he can handle that role with standout performances at marquee events like the Summer Jam Fest (PA) and Atlantic City Jam Fest (NJ). His 18 points and 6 rebounds performance against New Heights (NYC) was noteworthy. Rill's height, wingspan, handles, foot speed and shooting touch make him a matchup problem all over the court.
Jake Warren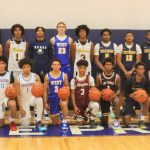 Jake Warren 6'10" | C Downingtown West | 2023 State PA – 6'10" / Senior / Calvary Christian (FL) / Philly Pride National / Power Forward: During the 2021-22 season Warren was a key part of a Downingtown West squad that was one of top teams in suburban Philadelphia. Warren (12 ppg. and 10 rpg. last winter) is a modern day "stretch-4" prospect. He is comfortable playing with his back to the basket in the post and moves well enough that he is a legitimate 3-point threat on the perimeter. He is extremely athletic, runs the floor swiftly and will flush with either hand. Warren is also a very skilled high post passer who averaged 3 assists per contest. At the other end of the court, Warren is a tenacious on-ball defender and rim protector who plays with a great deal of energy. Warren holds an offer from Saint Joe's.