The spring and summer circuit is over and as we head into the fall it is time to review what we saw. Here we examine the Top 2023 Wing Stock Risers in Illinois!
Macaleab Rich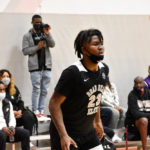 Macaleab Rich 6'4" | SF East St. Louis | 2023 State #261 Nation IL (East St. Louis)
Current Ranking: #9
Previous Ranking: #23
Rich took a huge jump up the board after how well he played in June. The East St. Louis powerfully built small forward physically dominated against top competition from around the state. His play at the Ridgewood Live Event established him as a top 10 prospect and the best player in southern Illinois.
Quentin Jones
Quentin Jones 6'5" | SG Marian Catholic | 2023 State IL (Marian Catholic)
Current Ranking: #22
Previous Ranking: #103
Jones was the other huge stock riser from the Ridgewood Live Event. The Marian Catholic two guard had some buzz heading into the event and lived up to it moving up over 80 spots with a monster showing scoring from all three levels.
Nik Polonowski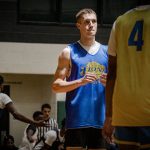 Nik Polonowski 6'6" | SF Lyons | 2023 State IL (Lyons)
Current Ranking: #24
Previous Ranking: #61
It was both during the high school live periods and with Breakaway that Polonowski emerged as a legit D1 prospect. Lights out perimeter shooter that has broad shoulders and good strength. Solid athlete that is at his best as a spot up shooter, but also has athletic pop finishing at the rim as well.
Jake Hamilton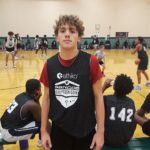 Jake Hamilton 6'3" | SG Sacred Heart Griffin | 2023 State IL (Sacred Heart Griffin)
Current Ranking: #32
Previous Ranking: #55
Hamilton was excellent at Ridgewood in June. The lefty two guard was effortless as a scorer knocking in shots, finishing with creativity at the rim, and finding his teammates when the defense forced him to give it up. With the Wolves he was good as a glue guy that did quite a bit of damage in transition. Skilled wing!
Arius Alijosius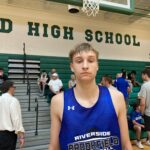 Arius Alijosius 6'4" | SG Riverside Brookfield | 2023 State IL (Riverside Brookfield)
Current Ranking: #36
Previous Ranking: #101
Big time shot maker here! The Riverside Brookfield shooting guard moved up 65 slots after a prolific two months during the summer! Started with his high school team as he hit threes over and over in bunches game after game. Such a sweet looking lefty stroke and continued that into the UAA in July. Colleges are definitely taking notice!
Antwan Robinson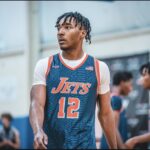 Antwan Robinson 6'5" | SF East St. Louis | 2023 State IL (East St. Louis)
Current Ranking: #42
Previous Ranking: NR
Robinson put his name on the map at Ridgewood with a big event. What stands out about this East St. Louis wing is his ability to knock down threes and defend all over the floor. Fits perfectly at the next level as a three and D small forward. Recently committed to Cal State Fullerton!
Kyle Olagbegi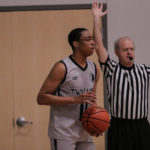 Kyle Olagbegi 6'5" | SF Lincoln Way East | 2023 State IL (Lincoln Way East)
Current Ranking: #46
Previous Ranking: #64
Olagbegi is a long and rangy small forward that makes a major impact on both ends of the floor. Offensively he is at his best in transition or putting it on the deck where he finishes at the cup maneuvering the ball around defenders for scores. Plus defender that can guard multiple spots with his long arms, strength, and athleticism!