The spring and summer circuit is over and as we head into the fall it is time to review what we saw. Here we examine the Top 2023 Post Stock Risers in Illinois!
Drew Scharnowski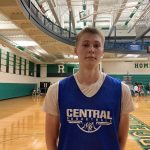 Drew Scharnowski 6'7" | PF Burlington Central | 2023 State IL (Burlington Central)
Current Ranking: #14
Previous Ranking: #33
Schanowski might be the hottest name in the state after the summer. He got a bump in the rankings as the skilled four man from Burlington Central showcased during the June high school period as well as July with Breakaway the face up four skills that are so valued at the next level. With that the offers came rolling in!
Jackson Kotecki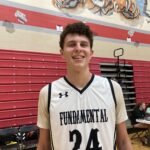 Jackson Kotecki 6'9" | PF St. Ignatius | 2023 State IL (St. Ignatius)
Current Ranking: #44
Previous Ranking: #79
Kotecki struggled as a junior at St. Ignatius, but regained his stock this summer especially when we saw him in Indy for the Grit Region Finals with Fundamental U. Can stretch the floor with his shooting, but what impressed us was his improved toughness putting it on the deck and rebounding.
Aries Hull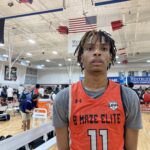 Aries Hull 6'8" | C Bolingbrook | 2023 State IL (Bolingbrook)
Current Ranking: #49
Previous Ranking: NR
Hull is making the move to Illinois from Tennessee. Originally from Illinois he is back and going to Bolingbrook for his senior campaign. Long and athletic five man that brings potential as a rim runner, dive threat, defender, and rebounder. He will make Bolingbrook's front line even better.
Tyler Van Gorp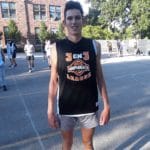 Tyler Van Gorp 6'10" | C New Trier | 2023 State IL (New Trier)
Current Ranking: #50
Previous Ranking: #69
We saw the best basketball of TVG's career with his play during the early part of July. With Hoops 4 Health especially in Atlanta he was excellent scoring on the block playing strong around the hoop with his added upper body strength. Rebounded in traffic and knocked in spot up jumpers.
Joel Brown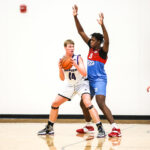 Joel Brown 6'8" | C Marshall | 2023 State IL (Marshall)
Current Ranking: #50
Previous Ranking: #109
Every time we saw Brown his stock went up in July. The Marshall five man is an old school back to the basket center that anchors down low and goes to work with his footwork and touch scoring at a high level. Very good area rebounder snatching them in traffic and protects the rim.
Aidyn Boone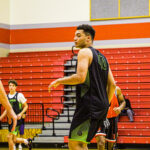 Aidyn Boone 6'5" | C Libertyville | 2023 State IL (Libertyville)
Current Ranking: #63
Previous Ranking: #120
Boone elevated his stock with Full Package by showcasing his improved consistency as a spot up three point shooter. The big man was a major shooting threat from three that also ran the floor and rebounded well in traffic all July.
Andrew Soenksen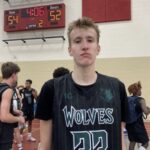 Andrew Soenksen 6'8" | PF Plainfield East | 2023 State IL (Plainfield East)
Current Ranking: #64
Previous Ranking: #115
Super long and thin power forward that can really shoot the ball from distance. He has always been able to do this as a spot up guy. The power forward opened eyes with a poster slam at the finals and then swatted everything in site at The Last Dance!