You don't have to coax these guys into taking shots. These shooters have the confidence and pedigree to knock down big shots in big moments. They have the ability to spur runs from beyond the arc and come through to hit tough shots to bail out offensive breakdowns. There should be no surprises here as each of these guys has shown all summer, they are some of the premier shooters in the 2023 class.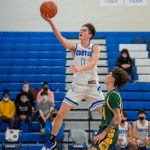 6'5" | SG | 2023
Curtis | Team Stuck
Tyce plays with such calm confidence when he's on the court, and it's no more evident than when he's spotting up around the arc. He can hit from one to two feet back consistently, and from time to time even steps out beyond that. It's an easy stroke without a ton of motion, but the simple stroke is one of the best around and Paulsen showed it all summer. He's an excellent outlet when the defense collapses and can also save possessions by drilling contested threes with the shot clock running down. Paulsen's calm focus has him as one of the best deadeye shooters from the summer.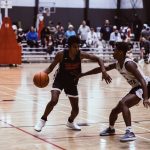 6'1" | PG | 2023
RA Long | ECBA
On multiple occasions over the summer, I saw Holden catch fire from distance and send his team on a run that sparked the entire squad. He looks to be the guy that gets things going and has some of the killer mentality to his game you look for. While he's not the biggest, most physical player on the court, he will not back down and has that fire in him that leads to draining clutch shots. Holden is a big-time scorer for RA Long and will look to take the momentum from a strong summer into the high school season.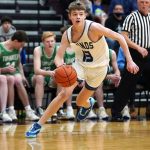 6'3" | PG | 2023
Pullman | Hooptown Elite/MD24 Team Daum
Brown is another grinder who steps up to the moments and is not fazed by anything when lining up for the shot. He's got a quick release made even quicker by Brown being ready to launch on the catch. He was far and away the best shooter on his Hooptown Elite team over the summer, and often one of the best shooters at any event he attended. His shooting helped Hooptown win the UAA 17U Invitational and he led 2A Pullman to a second-place finish at State last high school season. The kid is a winner and his shooting plays on any court.
6'8" | SG | 2023
Seattle Prep | Team Stuck
King brings an element to the long-range shot that a lot of players simply can't offer, size. At 6'7 he is almost always able to get his shot off and that is why he is such a factor when the offense breaks down and someone needs to create a look. King has that textbook high-arcing shot with the release point way over most defenders. He's been super effective all summer and shown an increased ability to make room off the dribble and get his shot off. The catch and shoot has long been a part of his game but his ability off the dribble has helped his game grow immensely over the summer.
6'2" | SG | 2023
North Creek | Seattle Select
This is another player that can catch fire in a hurry. When Jensen finds his groove he is tough to stop and buries shots even with defenders right up under him. He was a big-time shot-maker for Seattle Select all summer and seemed to always have the green light. Jensen has a little bit of an unconventional shot but his release point makes it a tough shot to get to and all that matters is it goes in. He's not picky about how he gets his shots either, on the catch, off the dribble, from deep, or rolling up to the line, Jensen gets it any way he can.
6'2" | SG | 2023
Monroe | North City
It's hard to miss Kuhnle on the court. It's partly because of his bleach blonde mohawk but mostly because of his hot shooting. There have been multiple games this summer where Kuhnle hit 7 or more threes. He plays with emotion but when it comes to the shot, he's a smooth operator. Kuhnle is as confident as they come and he backs it up with a beautiful stroke from deep. He has easy range and uses great movement off-ball to find shooting zones and get his shots up. Kuhnle is a more unheralded name but not for long after his strong summer run.