With summer basketball officially in the rearview mirror and these next few months being on the slower end, there is no better time than to take a look at some players that took their individual stock and raised it to the next level. Here are some 2023 guards that became stock risers these past few months.
Ahmere Carson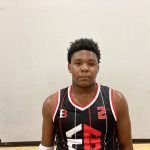 Ahmere Carson 6'2" | PG Anderson | 2023 State IN – 6'2 – PG – Anderson: Carson by far was one of the best guards in the entire Prep Hoops Grit Circuit this past summer. His IQ, strength, handles, and playmaking ability were only a few things that made him standout. He is not the quickest guard you will see but he will go at the defense is not afraid to play through contact. His great summer got him offers from both Wisconsin-Milwaukee and South Carolina State. He has made himself a guard to watch during the upcoming high school season.
Marcus Northern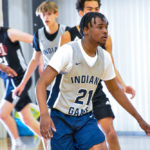 Marcus Northern 6'1" | PG South Bend Washington | 2023 State IN – 6'1 – PG – South Bend Washington: Northern started off the summer a little slow due to the depth chart on Team GRIII 2023 elite but once a few things shifted, Northern was able to breakout a little bit. He is high level two-way player than can score, defend, distribute, and much more. Was at his best when he was in the lane scoring and his outside jumper looked improved. When he can play freely, he can compete with almost anybody at the high school level. One guy that I am shocked does not have any reported offers as of yet.
Devon Woods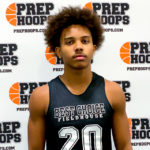 Devon Woods 5'10" | PG Pike | 2023 State IN – 5'10 – PG – Pike: If you want to talk about stock-rising guards, Woods should be at the top of this list. There were often times Woods put EG10 2023 on his back and carried them in scoring. So crafty in the lane and even with his smaller size he is an incredible finisher. He runs an offense at a high level too and his teammates feed off his play. When the summer came to an end, it seemed like colleges finally put this guy on their radar. Has an offer from Franklin College with more at that level likely to come soon.
Thomas Collins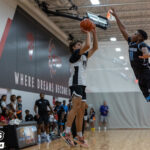 Thomas Collins 6'1" | SG Culver Academy | 2023 State IN – 6'1 – SG – Culver Academy: Collins is a guard that has fallen under the radar a little bit but had a sneaky good summer playing for Team GRIII 2023 Black. He is a little undersized at the SG spot but this guy can absolutely light it up from behind the arc. He has a balanced game where he can play off the ball but can make plays on the ball, especially in the lane round the rim. Coaches at the D3 level have taken interest in the dynamic guard.
Luke Almodovar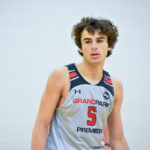 Luke Almodovar 6'2" | SG Noblesville | 2023 State IN – 6'2 – SG – Noblesville: The incredibly athletic, left-handed shooting guard was one of the most consistent 2023s this entire summer. Was doing what he does best and that was playing freely and letting the game come to him making a ton of plays for Indiana Elite Team Indiana 2023. His natural feel for the game will always be fun to watch and the way he uses his elite athletic ability just make him a tough player to stop. Could have made a case to play up with the 3SSB Adidas squad but overall made the most out of his summer and colleges have taken notice, Judson University being one.