Check out my analysis on some of the top performers at the first annual Stunna 4 Hoops Showcase, in Houston presented by famous rapper Stunna 4 Vegas and his entire crew. They set up an incredible atmosphere for some of the top prospects in Texas to showcase their talents. Do not forget to check out my YouTube video on all of the madness as well!
Tyshawn was easily one of the most dominant players in attendance, and showed off his natural ability to get into the teeth of the defense with his handle. He routinely got deep into the paint and finished at the rim amongst taller defenders. He is a lanky point guard who has natural bounce in his game, allowing him to elevate and detonate on defenders in the open court. I was very impressed by his aggressiveness, and ability to go coast to coast with a live dribble. He has improved his foot speed tremendously since the last time I saw him on the court, allowing him to get up and down whenever and however he wants.
He has a natural shooting stroke, allowing him to confidently score anywhere on the court. He takes what the defense gives him, and loves incorporating his nasty step back into his game. He danced around his opponents on the perimeter, and quickly got his shot up over them when given a glimmer of space. I was very impressed with how well he controlled the tempo of the game with the ball in his hand, both in the open court and the half court. He calmly made the right reads and cross court passes to set up his teammates for wide open looks.
Fred was incredibly impressive during his time on the court during the Stunna 4 Hoops showcase, calmly and confidently scoring across all three levels of the court and dominated by changing speeds in transition and the half court. His sudden start and stop allows him to manipulate the defense every time he has the ball. He scored off the bounce from the mid-range and beyond the arc, and dominated the game with his aggression and willingness to hunt for his shot. I was very impressed watching him dance around his opponent with a live dribble and calmly pulling up in their face.
He thrives when he is attacking the basket, and routinely gets into the teeth of the defense and finish over bigger defenders. He knows how to calmly change his shot angles to finish around his opponent at the rim. I was very impressed with how easily he scored down low, being no bigger than 6'3. His ability to attack the rim forces a second defender to always be aware of his presence, allowing him to find the right kick out or dump off pass. Payne has all the tools, both physically and mentally to dominate at the next level, he is one to keep your eye on as he goes onto Boston College next year!
Jamari is a very skilled player with an elite scoring ability and can fill up a box score with ease. He is a confident shooter from behind the arc, but his true prowess lies in his ability to get to the rim and finish. He is great at finishing with either hand and he does not mind tight defense even from bigger defenders. He has continued to develop at a rapid rate since the last time I saw him in person, definitely taking full advantage of the competition he faced in the Under Armour Circuit this summer. The highlights do not do it justice on this kid, he is a ferocious finisher when he gets some space to take off and elevate. I am continued to be blown away by his natural bounce, paired well with his aggressiveness and desire to dunk on anyone in front of him.
He also a multitude of moves and ability to get his shot up over defenders, showing great touch on his floater and runner in the lane. His ball handling skill is also very evident, he has quick crossovers he utilizes to blow by defenders. I would like to see him continue to develop his overall court vision and ability to create for his teammates. He has improved that since the high school season, calmly taking what the defense gives him in hunt for his own shot, but I want to see more play-making out of him.
He also plays elite on ball defense and made his opponents very uncomfortable when he guarded them, playing engaged full court defense and coming up with steals. His leaping ability also allows him to protect the rim and actually be a game changing force on the boards too, a true testament to his motor and hustle he plays the game with. Whoever gets a shot on him at the next level is not only getting a game wrecker with real leaping ability at the guard spot, but a player who is willing to defend every inch of the court and compete every time he steps on it.
Jake is an athletic big man who has great foot speed, allowing him to effectively rim run and finish strong at the rim out of the pick and roll with a full head of steam. I was very impressed by how well he threw down thunderous dunks, in all kinds of ways; off the bounce, tip dunks and lobs! Pike had more than his fair share of highlights with some emphatic dunks, including one he caught off of a sick no look pass from Wesley Yates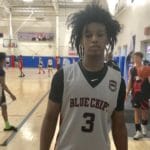 Wesley Yates 6'4" | SG Beaumont United | 2023 State #36 Nation TX . He is great at high-pointing the ball and finishing strong all in one motion. He is not just a finisher in the paint, he showed an ability to rebound at a high level as well. He always had his head up to make the right outlet pass out as well.
I would like to see him get more confident with his shot off the bounce, especially from the mid-range and beyond the arc. You could tell he was a bit uncomfortable as he got rushed into looks on the perimeter, forcing his mechanics to be off. I would like to see him raise his release point and work on keeping his guide hand flush with the ball, at times he pulls away from it and does not have any other support on his shot. Pike has all of the tools one could want with a big man at the next level, and with his tenacity in the paint, I have no doubts in my mind that he will become a coveted prospect as the year winds down…
Kenneth is a supremely athletic wing who hammered home some jaw dropping dunks this weekend. He is great at using his lanky body to go up strong and finish over and through anyone who stands in his way. He is good at using his size to finish strong and above his opponents, using a high release point on his jumper and his runner in traffic as well. Lewis finished lobs on the fast break with ease, and is a real weapon to score in the open court with his tremendous foot speed.
He is not just a slasher, he showed an ability to handle the ball and calmly score off the bounce from the mid-range and beyond the arc. He is comfortable around the wings and from the top of the key, and is a real weapon as a trailer option. He calmly shot over anyone he wanted to from the perimeter and even worked with his back to the basket to manipulate his opponent into a bad position.