Another installment of players in the Class of 2024 that are off he radar.
6'7 SF Chris Cox Chris Cox 6'7" | SF Cottonwood | 2024 State UT || Cottonwood High School || 2024 ||
Chris is on the cusp of moving off of the off the radar status as he was shown a lot of growth in in his game. He played club ball at a higher platform this past grassroots season and it has really shown as the level of competition really helps elevate games for players like Chris. He has length and he is a developing 3 guard at the next level. He can play a role and excel and he can also go out and get his own buckets as well. Defensively he has long arms and he moves well laterally. Has recovery speed and athleticism that make him an ideal next level prospect. Look for him to really show that growth over at Cottonwood this upcoming year. Could help C-Wood surprise a lot of teams in 5A.
6'2 G Russell Gibson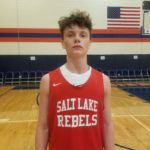 Russell Gibson 6'2" | CG American Leadership Academy | 2024 State UT || American Leadership Academy || 2024 ||
Russell has been quietly doing work this off-season and the past season as well as he made a change to head over deep Utah County and he had a great opportunity to shine and showcase his skill son both ends of the floor. Great motor that is always on and he is quick and has a different gear that he can use to get to the rim or get by his defenders to create space for his good jump-shooting ability. Nice outside and beyond the arc range. Could be a really solid small school find. Plays on the ball and off the ball which helps his stock.
5'10 PG Jordan Roberts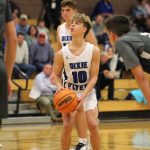 Jordan Roberts 5'10" | PG Dixie | 2024 State UT || Dixie High School || 2024 ||
Jordan Roberts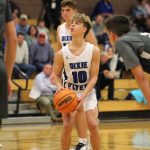 Jordan Roberts 5'10" | PG Dixie | 2024 State UT is off the radar for a few reasons but he is a solid PG that gets the job done. Jordan plays in the South and although Dixie has been good for many years these past few years they have been making it up to Salt Lake and getting run against the bigger 5A and 6A schools. Dixie holds their own and so has Jordan a player that is handling pressure well with his dribbling and change of pace but the highlight of his game is his vision and ability to find open players and really being a floor general out there. He could be a next level prospect especially at a small school that is looking for a player to control the tempo and get players the ball.
6'2 SG Sam Lind Sam Lind 6'2" | SG Wasatch | 2024 State UT || Wasatch High School || 2024 ||
Sam is finally settling in as he made his way to Wasatch from Park City. Sam is a smooth prospect that has a solid lefty game. Shoots the ball well from the three-point line and he has a nice pull-up game as well. Sam is going to be a nice addition to the varsity team as he will get more minutes this year. Look for Sam to contribute across the stat line as he was doing that for his UBC team this grassroots season.