Moorhead, MN – It was a fantastic afternoon of basketball at Nemzek Hall on the campus of Minnesota State University Moorhead. There was a ton of talent in the gym today. The players started out with offensive stations, next they played 3 on 3 games, and they finished with three rounds of 5 on 5 games. Read below to check out the standouts for the MSUM Elite Camp, note style.
Good luck to all the athletes on the upcoming school year!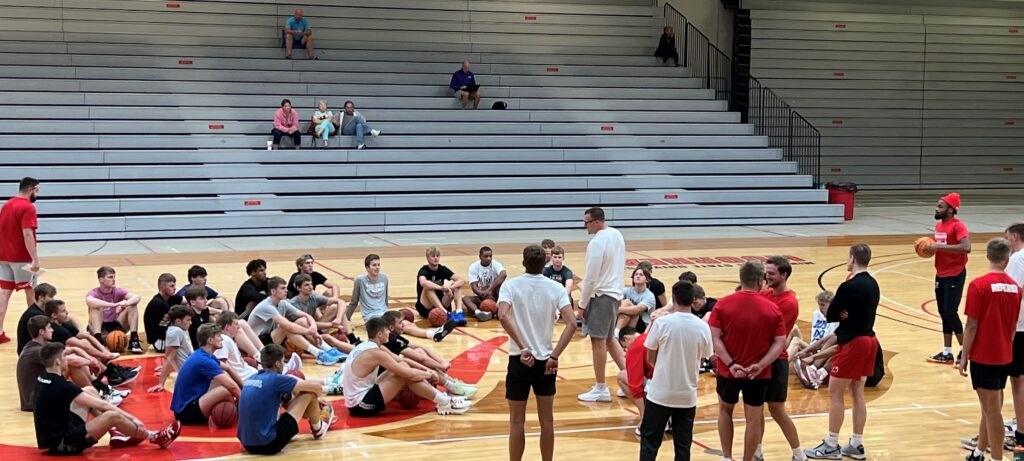 SUNDAY STANDOUTS
Ben Kopetzki (2023) |6'0 PG| Andover
-Lights-out shooter in the skill drills
-Midrange game is unstoppable, plays at his own pace
-Excellent court vision, no look dimes, kick-out 3's, drive & dish
-A top shooter on Sunday, if not the BEST
-Knifed/slashed through the defense, sweet finger-roll finishes
-Amazing handles, had zero trouble with on-ball pressure, he was on in control
-Step-back jumper was on-point in the scrimmages
-Showed great hang time when finishing in traffic
-Killer crossover, has all the moves an elite PG needs
-Reject ball screen, blow-by drive for layup
Grant Hansen (2023) |5'11 G| Greenway
-Pesky defender, multiple steals
-Quick hands, pick-pocket, good anticipation
-Impressive across-lane drive, lefty finish
-Productive scoring the ball in 3 on 3
-Smooth jump shooter and runs the floor hard
Elliot Whitney (2023) |6'0 G| Sioux Falls Lincoln
-He was stroking the 3-balls during the skill drills
-Moved well without the ball, drifted to open spots for 3's
-Handles & ball skills looked good, always found the open shooter
-Many perimeter jumpers throughout the afternoon
Da'Shon Fisher (2023) |6'2 SG| Liberty (IA)
-Left-handed wing/guard, was likely the most explosive player in the gym
-Crazy hops, dunks everything, threw down highlight reel type slams throughout the afternoon
-Floater/runner look good, soft & accurate
-Showed/made an impressive curl cut, you don't see those much anymore
-Deflected passes on defense that led to turnovers
-Hit back-to-back 3-balls in transition
-Had many athletic transition finishes
Nathan Fenske (2023) |6'2 SG| Lakeview Christian
-Big & strong wing player, college ready body
-Impressive/explosive dunker
-Shot it well in the skill drills
-Plays very hard & flies up and down the court
-Physical slasher & defender, contact does not bother him
Kobe Karels (2023) |6'3 CG| Cambridge-Isanti
-Showed great skills early in the camp
-Cashed in triples during the scrimmages
-Showed sneaky hands with a strip-steal
-Played fast and ran the court hard
Jalen Hayes (2023) |6'2 SG| Richfield
-Physical, muscular, powerful 2/3 guard
-Great take & finish with a defender hanging on his arm
-Showed an effective hesitation move to beat his defender
-Good eyes when passing to a cutting teammate into a small window
-Strong take with an impressive finger-roll finish in transition
-Shoots his jumper with great lift off the ground
-Looked good hitting triples in 3 on 3
Sam Kobbervig (2023) |6'2 SG| Central Cass
-Looks bigger, strong, and faster since last hoops season
-Jump shot is nice, looks like he is shooting out of a phone booth
-Nice slash & score with left hand in 3 on 3
-Deep drive, draw help, kick to spot-up shooter
Zach Kraft (2023) |6'2 CG| Grand Forks Red River
-Was great all Camp scoring the ball from every level
-Excellent footwork when finishing around the basket in skill drills
-Proved again that his jump shot is perfect
-Scored many times with soft floaters
-Looked good on D, offense tried to go backdoor, Kraft turned his head & got a hand up to take it away
-Smooth, crafty, smart, great feel
Colton Hagen (2023) |6'4 SG| Moorhead
-Better athlete than I realized, 2-handed dunks in skill drills looked easy
-Shot well from beyond the arc in the 5 on 5 games
-Cut into middle of the D, caught, scored over outstretched hands
-Drove into the teeth of the defense, scored with ease
-Played solid on-ball defense against talented offensive players
Tate Odvody (2023) |6'4 SG| Omaha Westside (NE)
-A very skilled offensive player & an opportunistic scorer
-Showed textbook shooting form
-Hit many 3-pointers, excellent shooting touch
-Easy to see that this kid is a bim time offensive threat
Braden Barger (2023) |6'5 SF| Chanhassen
-Made nice cuts, crosses the D's face, aggressive
-Ran the floor hard, transition scores, gets up a flushes easy
-High release on his jumper, can score in a variety of ways
Owen Skram (2023) |6'5 F| Armstrong
-Smooth athlete with long arms, intriguing skill
-Shot it well in the 5 on 5 portion of the day
-Impressive baseline drive, reverse layup finish
-Looks to have a high ceiling with his height and tools
Micah Thompson (2023) |6'5 G| Perham
-He does it all on the hardwood
-Great at pushing the tempo, delivered unselfish passes
-Extra hustle, O-boards for buckets
-Multiple steals, smart defender
-Uses his body well to finish in traffic
-Nice-looking catch and shoot 3-ball
-Great ball control and handles, used hesitation move to fool the defense
Ty Miller (2023) |6'5 F| Holy Family
-Scored well with 3-pointers & an athletic baseline drive
-Rebounded hard, boxed out and held his man back
Sam Senske (2023) |6'5 SF| Hawley
-Smooth baseline 3pt shot
-Jumper was effective off the bounce and catch
-Snagged O-rebound, spin-move into a lefty finish
-Jump-stop in lane, pivot, fade away jumper
-Reads ball well off the rim, many offensive rebounds
-Skilled and crafty
Ethan Russell (2023) |6'6 SF| Aberdeen Christian
-A very nice athlete
-Good ball skills, threw left-handed passes
-Shot it well today, good elevation, high release
-Sets his feet perfectly, has an in-rhythm jumper
-Excellent fade away jumper from the post
-Sweet lefty finger-roll finish
-Dangerous space-n-shoot player
-Showed good hustle when grabbing O-boards
Wyatt Hawks (2023) |6'7 PF| White Bear Lake
-Pick-n-roll D looked good, hedged and recovered effectively
-More athletic than I realized, impressive dunks in skill drills
-Better 3-point shooter as well
Will Opsahl (2023) |6'8 F| Goodhue
-Picked up an offer from MSUM today!
-Smooth trail 3-pointer in the 5 on 5
-Great eyes, many nice passes
-Grabbed a rebound and led the break like a PG going the other way
-Screen-n-roll score, great hands
-Showed a stop-on-a-dime jump shot
-Impressive length with long arms
-Slash into the paint, scored with a runner, unstoppable with his length
-Deflected passes and altered shots with his length
-Impressive vertical cut through the D, easy finger roll finish
Adam Jenkins (2023) |6'9 PF| Moorhead
-Has committed to MSUM, played with great confidence
-Amazing how easy he dunks, looked like his head was even with the rim
-Knocked down 3-pointers all day, the best I have watched Jenkins shoot
-Sweet running baby-hook with a defender in his face
-Soft touch scoring off the glass
-Active hands on defense, numerous deflections
-Spaced the floor and moved well without the ball
-Many dunks and lob finishes
-Powerful & explosive
Tysen Gerads (2023) |6'3 SG| Albany
-Has committed to MSUM, was excellent today
-Many slash & scores, dunk finishes
-More athletic than I realized
-Lefty pull-up jumper looked good and went in often
-Forced turnovers
-Got to the rim often and scored over the defense
Jonathan Mekonnen (2024) |6'7 F| Eastview
-Picked up an offer on Saturday from Augustana
-A very special athlete, move different than most
-Long, glides to the rim, no problem finishing over people
-Highly impressive dunker
-Very nice pull-up jumper
-Scored with O-board putbacks
-A super quick jumper
-Looks like a high-level recruit
-Blocked shot with a Vball spike
Brandon Hrncir (2024) |6'7 PF| Farmington
-Big, strong, tough load to handle
-Spread the floor and knocked down triples with ease
-Absorbs contact, finishes with no problem
-Talented in the pick-n-pop game
-Great lefty finish with a kiss off the glass
Eli Ehrke (2024) |6'3 G/F| Glencoe/Silver Lake
-Played great defense at the rim without fouling
-Sweet spin-move finish at the cup
-Nice touch pass in the screen-n-roll game
-Great outlet pass, pushed the tempo
-Slash-n-score many times
-Bobbed and weaved through the defense
Timmy Guler (2024) |6'1 PG| Pelican Rapids
-Everything he does is full speed and intense
-Super tough!
-Showed fantastic finishing, ball skills, and lefty passes
-No problem hitting jumpers with a hand in face
-Runs floor like a sprinter, many scores in transition
-Finished in the lane vs. big defenders
-Rising star, has all the tools of a great PG
Connor Engelmeyer (2024) |6'0 G| Melrose
-Quick athlete, nice skills
-Shot it well from three-point land
-Creative off the bounce
-Scores from all levels
-Bright future
Sam Hondl (2025) |6'5 F| Albany
-The best young player in the gym
-Mid-range jumper was impressive
-Finished at the rim with opposite hand
-No problem rebounding with the older players
-Quick and accurate outlets passes
-Sweet runner in traffic, does not play like a 2025 player
-Major upside with his length, skill, and mature game