Players who are in supporting roles, play for small schools, are on teams who don't top the division or battle injury often fall through the cracks in the scouting and recruiting cycles. Part of our quest at Prep Hoops NJ is to identify impact players who can make it to the next level and bring their names to the surface. Today, we look at several more 2023's who are in this category.
Nikola Borovicanin Nikola Borovicanin 6'3" | PG Ridge | 2023 State NJ | 6'5" | G | Ridge
Flying under the radar after moving to New Jersey from Belgium, Borovicanin had a stellar junior year. He's a prototypical European ballplayer: Excellent fundamentals, a scorer at multiple levels, good ballhandler. His defense is improving as time goes by. He had several good games a junior, including 18 vs Rutgers Prep and he'll be an all-county prospect this winter.
Precise Clark Precise Clark 6'8" | PF Paramus Catholic | 2023 State NJ | 6'8" | F | Paramus Catholic
A strong, physically mature forward. Clark has soft hands and good footwork in the paint on offense and also is a steady player on the boards at both ends of the court. Has good coordination and athleticism for a big man and runs the floor in transition well. He was around a double-double every game as a junior. He dropped an eye popping 25&15 on Teaneck and also added 18&10 vs East Orange. Blocked nearly 80 shots last winter. Coaches of scholarship programs should be flirting with Clark.
Harmehar Chhabra Harmehar Chhabra 6'5" | PF South Brunswick | 2023 State NJ | 6'5" | F | South Brunswick
Our most interesting find of the Hoop Group Pittsburgh Showcase. He is a confident player, especially on the glass. He hits the rebounding category with a high grade and plays above his 6'5" height in the paint. He uses his high basketball IQ to battle bigger players under the basket but can also step back and hit shots in mid range and even draw bigger defenders to the perimeter. He had several impressive outings as a junior, including vs South Plainfield(12&14) and New Brunswick(20&9). While the St Thomas Aquinas crew will make a strong case for their starting 5 being the entire First Team All GMC this winter, conventional wisdom says 2-3 of those spots will go to players elsewhere. Chhabra could be one of those players and colleges should be very interested in him.


Jack O'Leary Jack O'Leary 6'1" | CG Raritan | 2023 State NJ | 6'1" | G | Raritan
O'Leary took on a leadership role as a junior after being a contributor early on in high school. He's a slasher who knows how to get through bigger defenders and draw contact. A hard worker on defense as well. He'll take on the bus driver role for Raritan this coming winter. He had 29 vs Steinert, 22 vs Holmdel and 24 on South River in States. He's turned heads on the AAU scene with the Jersey Force and colleges have noticed.
Isaiah Fuller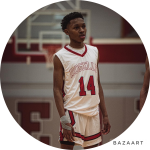 Isaiah Fuller 5'11" | PG Roselle | 2023 State NJ | 5'11" | G | Roselle
Fuller came over from Eagle Academy in NYC as a major impact transfer for the Rams but an injury hampered what would have otherwise been a big year for the guard. Good ballhandler and a craft lefty who knows how to get at the basket but can also bury it from beyond the arc. Confident leader who is always playing 100mph. He can move the ball well and is a solid lead guard. Expect him to be one of the top guards in Union County as a senior. He's getting interest from scholarship level programs and is an All County type player.