Part 2 in a series looking at top Michigan grassroots performers from the past season on the Prep Hoops Circuit . I looked at the upperclassmen in part 1. We'll move onto to the classes of 2025 and 2026. I hope to branch out to the other circuits and events I was fortunate enough to cover in upcoming entries
Class of 2025
Oskar Kangas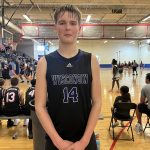 Oskar Kangas 6'5" | SF Iron Mountain | 2025 State MI 6–5 Iron Mountain Playing for the Wisconsin Crusaders. This Upper Peninsula product proved that the pipeline of talent at Iron Mountain has not dried up. Kangas showed all spring and summer that he has a lot of long term potential. This potential is largely based on positional versatility. Has a strong and developed frame. Accordingly does most of his damage close to the basket at this point. But has the ability to stretch his game out to the perimeter when needed. Also is a good passer out of the high post who showed the ability to initiate offense 
Camden Fall Thompson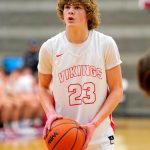 Camden Fall Thompson 6'4" | SF Whitehall Vikings | 2025 State MI 6–4 Whitehall (pictured) This West Michigan area lakeshore forward nearly led his Harwood Midwest squad to an unblemished record on the Prep Hoops Circuit. Versatile player who can beat you in a wide variety of ways. Scoring is the most basic and easy to identify. Put up a 40 spot at his home region Rumble in Rapids in the spring. But his game goes beyond scoring. Good enough ball handler to run the point. Did that effectively in an unbeaten run against good competition at the Chicago Summer Challenge in early July. Bouncy athlete who easily makes plays at and above the rim. Pulled double duty. Also ran with the Grand Rapids Storm throughout the grassroots season as well.
Chris McLavish Jr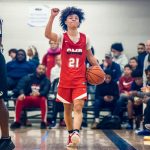 Chris McLavish Jr 5'8" | PG Flint Carman-Ainsworth | 2025 State MI 5–8 Flint Carman–Ainsworth Although it was just a short spring run. McLavish's CMB Running Rebels made some serious noise on the Prep Hoops Circuit. Had a signature win by defeating a fully loaded EYBL bound Mac Irvin Fire squad in Indianapolis at Havoc in the Heartland. McLavish shot the lights out in that game. If you follow Michigan high school basketball. You know that is a given with this player. But it was also the playmaking that showed out during his spring run. When defenses quickly adjusted to run him off the three point line. He was able to shift to more of distributor role. Like Thompson, McLavish wrapped up his grassroots season by running with the Grand Rapids Storm. 

Class of 2026
Jaquan Stennis Jr 6-7 Detroit Old Redford Academy If you are just going on athletic upside. Stennis is a notch above everyone else on this list. Simply put is already an elite next level (college that is) athlete before stepping foot in a high school. Is simply electric in the open court. Is a grab and go prospect. Can get a rebound and start a break all by himself. Often finished off with highlight reel two handed dunks. I did see him struggle at times to find his spots against zone looks. But those were isolated incidents and he has plenty of time to work on that. But on the whole was a dominant performer in two Prep Hoops Circuit live events (Indianapolis and Atlanta) Showing up on some early national recruiting rankings as a top 50 prospect. Played for a rejuvenated former grassroots juggernaut in the Michigan Hurricanes. 
Carlos Medlock Jr 5–9 Wayne Memorial Stennis' backcourt running mate on the Hurricanes was equally impressive. Medlock also excelled in transition opportunities. But he is also a heads up passer and very proficient from beyond the arc. Aggressive and competitive player who did not back down from anyone. Despite playing up a a grade level throughout the summer. Son of an overseas professional and standout at now defunct Detroit Murray-Wright. Parlayed his play this summer into a Division 1 scholarship offer from Cleveland St. Bright future to say the least for this backcourt prospect.