Who were the high level performers that we saw in Las Vegas on Friday? The headlines were dominated by the 2024 class!
We spent a lot of time talking about the game of Jonathan Mekonnen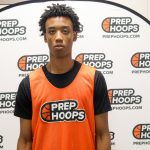 Jonathan Mekonnen 6'7" | SF Eastview | 2024 State MN last week – the size, explosive burst, length, growing consistency in several events (many on the Prep Hoops Circuit) – and after all that talk, Mekonnen backed it up on Friday against two shoe level bigs that had played in UAA/Adidas events and on this weekend joined the Southern Cali Cavs.
Mekonnen has all the physical measures plus he is a lefty, his father played soccer for the Ethiopian national team, and he's a loyal young man that comes from good programs (The Minnesota Heat and Eastview High School). Mekonnen has recently had a couple high major schools contact him (Iowa State and Minnesota) and he will visit Minnesota this Thursday unofficially.
So there is the hype. As for the latest game we saw? A 22 point, seven rebound performance outplaying this shoe team bigs. The early production was two more explosive blocks at the rim and a few dunks and rim finishes growing his total. What really grabbed my attention was Mekonnen's last three baskets: 1) face up attack at the elbow using two dribble to finish on the left side, 2) a three at the top of the key, 3) a baseline 11 foot jumper. If Mekonnen continues to face-up and make these plays consistently ALONG WITH all of the other hard working stuff in the paint, the ceiling continues to lift.
Alijah for 34
Before getting in the car and heading out to Malibu for an unofficial visit to Pepperdine, Alijah Adem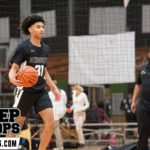 Alijah Adem 6'2" | PG Spring Valley | 2024 State NV exploded for 26 first half points and a total of 34 in a Chosen Few win over Rocky Mountain Select. It was a 34 point, 5 rebound, 7 assists masterpiece on 11 of 19 shooting from the floor (4 treys) and eight of nine foul shooting.
The three things that most caught my eye on this game from Adem were: 1) the hesitation move and how it was used in relation to where the defense was moving both with the initial defender and with the help defenders, 2) the range on the jumpers, 3) Adem's mix of when he went to his own offense, and when he rapidly swung the ball the other way allowing others to do damage. He had seven assists and created a ton of shots for others while also making 11 himself.
This was a nice showing from several of Adem's Chosen Few teammates as well. Adonis Lafluer forced the defense to scramble as his double figure scoring was highlighted by three threes. Devin Mabry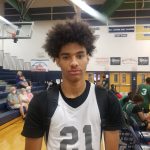 Devin Mabry 6'3" | SF Shadow Ridge | 2023 State NV and Osvaldo Biebrich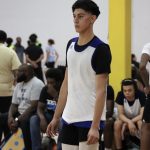 Osvaldo Biebrich 6'6" | C Desert Pines | 2023 State NV both did a lot of work as they combined for 15 rebounds. Mabry scored four times going at the rim and Biebrich hit a late three that put away Rocky Mountain Select for good.
The Select (16s) Way
On Friday I got a chance to see the Minnesota Select 16s a couple times. Here is what caught my eye from their team:
Matt Drake Matt Drake 5'11" | PG Lakeville North | 2024 State MN of Lakeville North: Count me as a big fan of Matt Drake Matt Drake 5'11" | PG Lakeville North | 2024 State MN . An opposing coach used the best word to describe him and that is, pest. "He's a pest". With his ball pressure, his quick hands on D, his quick push at times, and his ability to make somebody pay for helping deep by hitting a jumper, Matt Drake Matt Drake 5'11" | PG Lakeville North | 2024 State MN was very good this weekend. Surely think he has a chance to be the key piece that turns the Panthers into a top title contender.
Kayden Wells Kayden Wells 6'5" | SF Benilde-St Margaret's | 2024 State MN of Benilde-St. Margaret's: Kayden has a chance to be a really nice role player for the Red Knights this year. At 6'5 and active, he scored really well off ball for Select this year and has rebounded well. Has the physical ability to guard a few spots. Like his potential.
Carson Schweim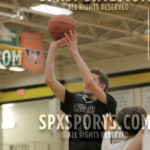 Carson Schweim 6'6" | SF Mankato East | 2024 State MN of Mankato East: Carson helped the 17s this weekend and played well, and was of course solid for his 16s. He's a reliable good size forward with face-up skill.
DaMarcus Burks DaMarcus Burks 6'3" | SG Lakeville South | 2024 State MN of Lakeville South: This weekend Burks really grabbed my attention with his play. The game winner for the 17s, his ability to playmake has taken a big step forward, and Burks is a strong but also athletic guard that was consistently productive. A player who has surely lifted his stock this summer with Select.
Dawson Bunke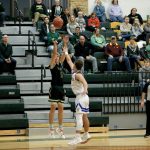 Dawson Bunke 6'5" | PF Rushford-Peterson | 2024 State MN of Rushford-Peterson: Long forward with a touch, his 14 points including four triples on Friday propelled his team to a key win.