There was a long list of 2024 prospects who showed off their potential over the spring and summer, these five prospects are names to keep an eye on when the High School season comes back around:
Dylan Jay Dylan Jay 6'4" | SG Chelan | 2024 State WA , 6'5, Guard, Chelan
Dylan had an impressive summer run for Hooptown Elite and performed against some premium talent in the process, showing all his tools. It starts with his movement off the ball and a deadly 3-point shot to boot, he finds himself open for the long ball more often than not and shot it at a high clip whenever I got a chance to watch him. A gritty player on both ends, he's a great system fit for any team and has an extremely high IQ with a sense for spacing. He's going to have a chance to build off a stellar summer for Chelan High in the coming months.
Jaxon Dubiel Jaxon Dubiel 6'1" | CG Mountlake Terrace | 2024 WA , 6'3, Guard, Mountlake Terrace
After coming on as a key contributor last season for the Terrace Hawks, Jaxon made big strides for North City AAU in the spring and summer circuits. He's in line for a major jump in opportunity with Mountlake Terrace with D-III George Fox commit Jeffery Anyimah graduated. He has great length at 6-foot-3, can put the ball on the floor as a playmaker, cut through the lane, and he showed plenty of upside as a three-level scorer and a multi-positional defender. Still growing into his body, I can see Dubiel becoming even better with the ball in his hands as time goes on.
Jamison Atwood Jamison Atwood 6'4" | SF Woodinville | 2024 WA , 6'5, Forward, Woodinville
A physical forward with a strong upper body and rebounding ability, Atwood showed off that ability over the summer for the FOH Seattle 2024's. He's a fighter on the boards, particularly on the offensive side, he can give his team extra possessions off his hustle alone and bull through multiple challengers at the rim, earning put-back opportunities and free throw trips. There is a ton of potential as a four man at the next level and he'll be one of Woodinville's main guys in the 4A KingCo region.
Mo Jaiteh, 6'4, Wing/Guard, Everett
Going largely under the radar over the summer, Mo Jaiteh is a kid to remember once the High School season is in restart mode. As a 6'4 wing, his arms go for miles and he is a player who oozes upside on both ends of the court. He's a versatile wing player who fits well off the ball along with the other scorers the Seagulls have on their roster. He crashes the glass, cuts hard to the basket, and is a player who can finish above the rim with an improving jump shot. There should be a solid role for him to grow into in his first season on the varsity squad with sky-high potential.
Carter Williford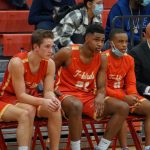 Carter Williford 6'3" | CG Mount Tahoma | 2024 WA , 6'3, Guard, Mount Tahoma
Williford could end up being one of the biggest risers of the 2024 class when all is said and done. Over the AAU season, he performed as a strong playmaking guard with a crafty finishing ability around the rim and an effective shot from long distance. Like other lefty scorers, he finds a way to go back to his left hand when defenders least expect it, being able to find open teammates even while driving a packed lane in traffic. He figures to be the guard who slides into the role with the ball in his hands after Mount Tahoma star guard Asjon Anderson (Utah Tech) moved onto the next stage.